Don John
Adapted by Emma Rice and Anna Maria Murphy from Don Giovanni
Kneehigh Theatre
The Lowry, Salford, and touring
(2009)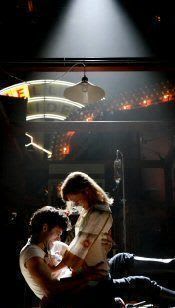 Playfully innovative Cornish theatre company Kneehigh pays the first of two visits to the Lowry this month with its version of the tale of the serial seducer known in different languages as Don Juan, Don Giovanni or, in this case in English, Don John.
Kneehigh's version is set in England in the 1970s, with some great period detail in the fashions, music, TV programmes and the political situation, including pickets in donkey jackets around a brazier talking about strikes, Irish terrorist attacks and power cuts – the last of which is a gift to the title character on a few occasions at important moments in his seductions.
Amongst the pickets, punk bands and Northern soul dancers, we find vicar's wife Anna, who nurses her dying father and is frustrated by her sexually shy husband Derek, who continues to preach and sing his hymns regularly even though his church is empty. Pathetic but loveable Alan is in love with lively Polish cleaner Zerlina, who agrees – it seems reluctantly – to marry him. Refined but naïve Elvira arrives with her wedding dress in a suitcase looking for the man who seduced her and promised to marry her: Don John.
Into this mixed community of unsatisfied people comes the man himself with his friend Nobby, whose job seems to be to keep a photographic record of all of the girls that John sleeps with and clean up any problems after him. John himself is indifferent to the problems he causes and unwilling to curb his pleasure seeking, responding to confrontation with a shrug or with violence. Of course he upsets so many people by the final moments that it looks like he may come to a sticky end.
Vicki Mortimer's design sets the story amongst some lorry containers with fronts that slide or hinge away to reveal scenes, surrounded by the lights of a decrepit fairground. The script, adapted and directed by Kneehigh artistic director Emma Rice with words and poems by Anna Maria Murphy, can seem a little disjointed at times and some of the monologue poems are more effective than others, but for most of the time it works very well in performance and moves at a good pace. Towards the end, however, the pace does lapse and become a little confused, leaving John wandering around waiting for his inevitable ending; it certainly ends with more of a whimper than a bang.
As John, Gisli Örn Gardarsson has just the right louche, rock star arrogance and charm and was certainly a hit with the teenage girls in the audience. Carl Grose as Alan and Craig Johnson as Derek both combine the quirky comic character of an old-fashioned northern comic with superb comic sense and timing with some really heartbreaking but subtle emotion. Kneehigh founder member Mike Shepherd holds everything together superbly as Nobby, and Patrycja Kujawska is a bundle of joy and energy as Zerlina, and then a force to be reckoned with later when she leads the revolt against John.
Amy Marston as Elvira has to make the largest transformation, from the confident, refined character full of hope to the hopeless drunk at the end. As Derek uses the words of the songs from the film Grease in his sermons, an echo of that story is seen in Elvira's attempts to win her man by changing herself into what she thinks he wants her to be.
Apart from the actors, there is a four-piece onstage band, supplemented sometimes by the actors on instruments and vocals, as well four dancers from dance company Cscape.
Kneehigh has strayed away of late from its more common ground of myth and fairy tale, but as always it has produced something different and interesting and extremely entertaining and thought-provoking for the most part. Although not entirely successful, it is still fresher and more watchable than most theatre that visits the region and therefore still to be recommended.
Gail-Nina Anderson reviewed this production at Northern Stage, Newcastle. It was also reviewed by Lucy Ribchester in Bristol and by Philip Fisher at BAC.
Reviewer: David Chadderton