Dimetos
Athol Fugard
Donmar Warehouse
(2009)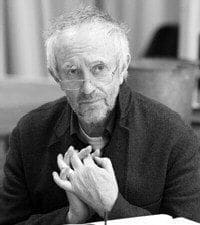 Dimetos might well be able to claim the best opening and curtain scenes of any contemporary play. Each features young Lydia suspended from a rope above the Donmar's stage in feats that must have challenged designer Bunny Christie, as well as fresh-faced actress, Holliday Grainger.
Douglas Hodge is an actor's director and brings out the best in performers from two generations in this pared-down fable, first seen at the Edinburgh International Festival in 1975.
In the first half, Miss Grainger makes a really big impact playing Lydia, the embodiment of purity and innocence. As in Equus, the pleasure that she derives from a close scrape with a horse represents the first step towards the loss of that joyful innocence.
The second arrives in the person of city diplomat, Danilo (Alex Lanipekun). He has trekked out to the back of beyond in the hope of persuading Lydia's uncle to return from five years of exile.
Jonathan Pryce is Dimetos, a standard Fugard character: the eccentric old man fused with Ancient Greek tragic protagonist.
He is an engineering genius who has dropped out of civilised society, ostensibly to help out his neighbours. Inevitably, he has a secret that only ever emerges in part during this 2¼ hour drama.
His love for Lydia is manifest to all but its object and is overpowering. Eventually, the two men begin to battle over responsibility. Should Dimetos return to a waterless city that needs him as a saviour and in doing so serve society or remain an outcast hoping to make a major discovery? In reality, as Anne Reid's wise housekeeper Sophia observes, their skirmish is really about Lydia.
After the interval, the action moves from the bleak, wooden shanty to even more desolate ground on a beach and it is there that our protagonist achieves catharsis through storytelling and quite possibly madness.
Jonathan Pryce makes a difficult character sympathetic but almost has to give second best to the gutsy Holliday Grainger, from whom we will undoubtedly hear a great deal more, if her burgeoning TV career permits time out for live work.
Dimetos is not an easy play, as much of the meaning remains far below the surface but it has hidden depths that will haunt viewers long after they leave the theatre.
Reviewer: Philip Fisher