You Don't Kiss
Troy Andrew Fairclough
Language Laid Bare
Brockley Jack Studio Theatre
(2010)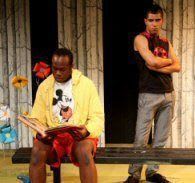 Language Laid Bare (Nina and Shaz and The Bitch from Brixton) are back at the Brockley Jack with a one act piece that won its writer, Troy Andrew Fairclough, the London Borough of Newham's 'Writing Out' Award when it was first produced in 2002.
You Don't Kiss is a look at the diverse attitudes of three black gay men to love and sex. Hartley has a monogamous Disney-esque view of relationships, despite being exposed to slutty Justin's freer approach and waspish put-downs, and stranger Ian is altogether more business-like.
Fairclough is down to earth, almost bleak in his portrayal of gay relationships: Hartley appears to have special needs implying that you need to be a "fruitcake" to be a romantic and hold out for that special person and a happy ever after ending.
Fashion victim Justin focuses on sex, honing his techniques for when he gets to London: he is blasé "practising oral sex this week", last week was anal sex. His artificially exaggerated teeth-sucking attitude presumably is designed to help him fit into his perception of the London scene. London is the place where winners go. He says, "It's ok to be gay in London" as if the location is going to make him those things, ignorant or in denial of the truth that being OK about who you are lies within.
Ian is no happier than Justin and Hartley. Good-looking and well-off he may be, but he is still single and making a living offering his "straight-looking" escort services in magazines. Like the others he is not exactly as he appears. In the end what becomes apparent is that they are not that different from each other and no different from anyone else in what they ultimately seek.
Lack of experience of this young cast together with lack of detail in the writing may explain why Michael Ellis, Josh Enright and Adrian Kabba do not seem entirely comfortable in their roles, though the number of fluffed lines may also indicate nerves.
Fairclough has written an entertaining piece but the characters remain unlikeable and their situations unmoving, although it is engaging to watch the power shift between the men as the narrative progresses. This is a short play and character development is one of the casualties of its brevity, as are thinly explained motives and the unconvincing friendship between Justin and Hartley.
Nonetheless Fairclough reveals some truths even if he doesn't offer answers on how to find love where "there are no princes".
"You Don't Kiss" plays to Saturday 31st July (except Sunday 25th)
Running time 1 hour 5 minutes without an interval. Contains adult themes - suitable for 16+
Reviewer: Sandra Giorgetti