The Doubtful Guest
Inspired by the book by Edward Gorey
Written and directed by Shôn Dale-Jones
Hoipolloi The Courtyard Theatre, West Yorkshire Playhouse, Leeds
(2008)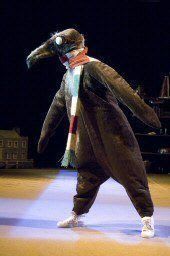 Five dedicated, talented actors, first class body language, interesting accents, a lovely well worked set, great sound, dodgy lighting, strong characters, excellent wardrobe, an exciting sense of 'theatre' at its best and funny lines: who could ask for more? Not me, but less, please less - this is a five to ten minute sketch whacked up to eighty minutes!
Eighty minutes spread thin across the rubric that if a thing's worth doing it's worth doing several times, then repeating. Eighty minutes which started with excitement, joy at the actors' appearance and composure then ever increasing boredom.
The programme, singing the praises of Edward Gorey, refers to ' stories told with exquisite brevity ' So why not learn from that?
Such a waste of talent and time (not to mention ACE loot!). It was a full house, by the way, and most of the audience loved it. If you like your theatre shallow and meretricious - this is for you.
At Leeds to 1st November, then Sherman Cymru, Cardiff (5th to 8th November)
This produciton was reviewed by Philip Fisher at Watford Palace, by V Mitchell at Northern Stage, Newcastle, and by Allison Vale at Sherman Cymru, Cardiff
Reviewer: Ray Brown