The Doubtful Guest
Shôn Dale-Jones, inspired by the book by Edward Gorey
Hoipolloi and the Theatre Royal Plymouth in association with English Touring Theatre and Watford Palace Theatre
Watford Palace Theatre and touring
(2008)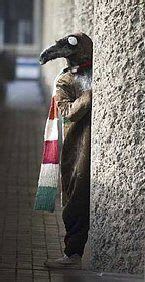 The only word to describe Hoipolloi's latest venture is charming. After a couple of Hugh Hughes adventures, the company now returns to the world of nonsense by dramatising a 1957 children's book by Edward Gorey, perhaps best known as an illustrator.
From the opening Pirandello-inspired deconstruction of polite theatrical norms, the style is characteristic of this iconoclastic company.
Stefanie Müller's low-tech set is everything that one has come to expect, taking us into a world of Edwardian opulence. The home of three generations of Bishops (surname not liturgical title) is centre stage in miniature, while most of its contents hang suspended, ready for action at the pull of a guy rope.
The Bishops are a family which enjoys the powerful position and the comfort that wealth brings. We are introduced to them in an assortment of tableaux, including an unforgettable depiction of "doing nothing".
We soon become familiar with the foibles of an older generation featuring a particularly expressive Andrew Pembrooke as Father and Miss Müller as mother
Jill Norman is daughter Margaret, aided by the Sioned skitter across stage that she perfected in Floating, while Trond-Erik Vassdal as son-in-law Herbert is hardly flattered by surely the worst hair piece ever seen on stage, orange and stringy. The witty Ben Frimston completes the cast, playing their over-grown young son Charlie, a boy never lacking in hunger or adventure.
The story takes off with a knock at the door. The initially invisible visitor is like The Man who Came to Dinner, destined to stay, whatever his/her hosts might attempt. To add to the novelty, once the guest does take bodily form, every cast member, a cuddly toy and a chalk diagram depict this lost and found soul.
Whilst initially, the anteater (?) referred to throughout as "it" might not be a novelty, after a number of unfortunate incidents it overstays its welcome.
These incidents are great fun and include mischievous exploits such as trapping Margaret and her father in the study for a month, moving goodies around the house and valuables into a pond as well as causing many similar traumas. Eventually everyone gets fractious, led by dear old dad, who at one point seems set to explode, such is his frustration.
This is a mixed media show with song and dance, physical performance and relatively limited text, telling a tale that at times resembles a comic movie from the silent era and at others, a family film drama from the forties. It does though have dreamlike qualities that a Freud or Jung might spend years explaining.
With stylish modern chamber music of the Arvo Pärt variety to jolly us along, The Doubtful Guest does nothing sensational or ground-breaking. It just tells a simple story in an attractive way, providing 80 minutes of gentle comedy for all of the family, not to mention an opportunity to watch a well-drilled and multi-talented cast showing off variegated stage skills to great effect.
Touring to Liverpool, Ipswich and Newcastle
This production was reviewed by V Mitchell at Northern Stage, Newcastle, by Ray Brown at the West Yorkshire Playhouse, Leeds, and by Allison Vale at Sherman Cymru, Cardiff
Reviewer: Philip Fisher