Doubt
John Patrick Shanley
Tricycle Theatre
(2007)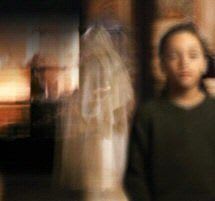 This play may only last eighty minutes but it packs a really big punch. John Patrick Shanley's Broadway hit has taken two years to make it to these shores for some inexplicable reason but it is worth the wait. He subtitles Doubt "A Parable" and with its sometimes tangential explorations of a series of moral dilemmas, it lives up to both title and subtitle.
The play is set in a convent in the Bronx in 1964, as the Catholic Church is in transition following the second Vatican Council. It is pared down to perfection, presenting a mystery and then offering potential solutions, every one of which creates its own difficulties.
The major clash is between Dearbhla Molloy as Sister Aloysius, a dragon of an old school principal and The Wind That Shakes Barley star Pádraic Delaney as Father Flynn, a young, modernising priest. As such, they represent traditional Catholicism and a newer brand of religion that seeks to assimilate ideas that some might regard as doctrinally unacceptable, such as Frosty the Snowman.
The play opens in front of a mini revolve designed by John Gunter that swiftly takes us between scenes. Father Flynn is delivering a sermon about life's uncertainties that in his way, is packed with parables. This acts as a kind of prologue to the investigation of doubt that is to follow.
Sister Aloysius' unwilling partner in uncovering crime is the sweet natured but somewhat unworldly Sister James, played by Marcella Plunkett. Having been bullied as a too good and generous teacher, she intimates knowledge of a misdeed. This might not have mattered (or been that interesting) had the victim not been the convent's only black pupil.
Immediately, with the kind of fervour that can surely only have been inspired by Satan, the principal begins a campaign to unseat and defrock a man who quickly becomes her enemy. Her justification in doing so is no more than that she has a gut feeling about him.
Soon enough, that topical subject in the USA today, child abuse by Catholic priests, is in sharp focus and, for an hour, a battle rages like a bare knuckle fight between these two representatives of religion.
Added depth is offered by the boy's mother, played convincingly by Nikki Amuka-Bird. This cowed lady's only concern is for her son's future and when she reveals his nature, one can understand both why his father beats the boy and also her desire to brush any problems under the carpet.
That is not Sister Aloysius' way though. She eventually proves to her own satisfaction, if not necessarily irrefutably, that a mortal sin has taken place. Even then, the ending offers a surprise or two.
Doubt works well because it has hidden depths and offers the kind of ambiguity that David Mamet used so well in Oleanna. It is not so much a whodunit as a was anything done?
Nicolas Kent's production does not have quite the directness of the Broadway version but even so, this is a powerful and engrossing drama that might feel at home in Kilburn but could work equally well on one of the smaller West End stages.
Playing until 12 January 2008
Reviewer: Philip Fisher