Downstate
Bruce Norris
Steppenwolf Theatre Company
Dorfman Theatre (National Theatre)
–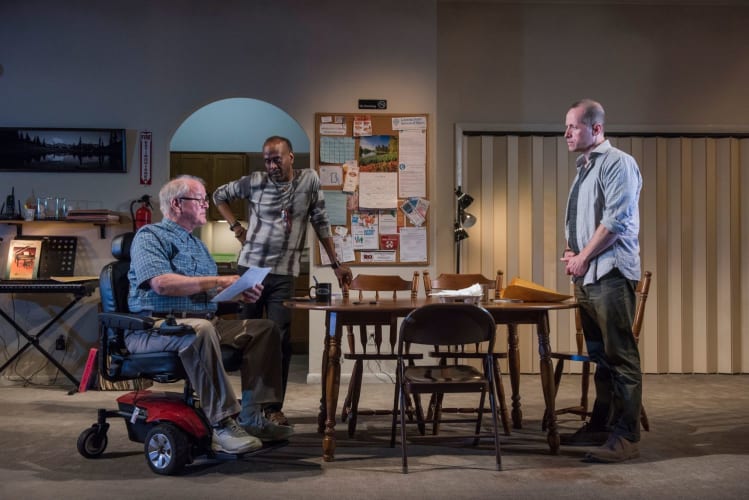 The National's Artistic Director, Rufus Norris is to be congratulated on co-commissioning with Chicago's Steppenwolf Theatre Company this hard-hitting new play from Bruce Norris (no relation as far as the writer is aware), still best known in this country for the incomparable Clybourne Park.
This review probably needs to carry a health warning upfront. The subject matter and the way in which it is considered could well cause considerable offence. Against that, Bruce Norris is a fine, mature playwright who is capable of taking on important issues and addressing them fairly and seriously.
Downstate is set in an Illinois "group home", effectively a halfway house, 280 miles from Chicago. This is occupied by four men who have been conditionally released from prison after being incarcerated for sexual offences against children.
The evening opens with a touching scene in which Tim Hopper playing Andy, a victim from decades before, attempts to exorcise some demons by confronting his tormentor, wheelchair-bound Fred portrayed by Francis Guinan.
The meeting doesn't go entirely to plan, largely because the apparently sweet-natured Fred, a former piano teacher who was almost beaten to death while in prison, is both reasonable and almost innocently unrepentant.
The two-and-a-half-hour evening unfolds, telling the tales of his three housemates. In some ways, the most shocking is the most reasonable, K Todd Freeman's Dee, a homosexual former actor who can see nothing wrong in falling in love with and then having a long-term sexual relationship with a boy who was 14 when they met. In Dee's eyes, the problem is with society and the law rather than his own actions.
Glenn Davis is Gio, a born-again Christian who pontificates at length but still seems overly tempted by young women, while by far the saddest story is that of Felix. Eddie Torres takes the role of a man who loves his teenaged daughter far too much. In doing so, he becomes the symbolic epitome of the sickness or addiction that afflicts every one of these criminals.
The strength of this play lies in the balance that Bruce Norris achieves between condemning "evil" and allowing viewers to gain some kind of understanding and empathy with the men who perpetrate and represent it in what feels desperately like a slice of very real life in the raw.
Linking the tales of the four men is Andy, a victim who understandably feels that he is entitled to a special status, but also a tough, sassy police officer, Ivy, played with convincing realism and great good humour by Cecilia Noble.
To complete the picture, we get at least a glimpse of the views and actions that vigilantes believe are within their rights when it comes to those that abuse children.
An Anglo-American cast proves to be incomparable, from top to bottom, thanks to their own efforts and the sensitive direction of Steppenwolf's Pam MacKinnon.
It seems unlikely that many prospective theatregoers will have hankered to be a fly on the wall in a real group home where largely unrepentant recidivists of this type spend their lives in the hope of achieving real freedom, which is probably never going to come their way.
However, anyone wishing to get a better understanding of this terrible sickness and those that it affects, whether as perpetrators, victims or police, should not miss out on what is likely to be one of the strongest plays that the National or, for that matter, any other theatre presents this year.
Reviewer: Philip Fisher