Dr Seuss' How the Grinch Stole Christmas! The Musical
Book and lyrics by Timothy Mason, music by Mel Marvin
Simon Friend, Gavin Kalin, Phil McIntyre, Eilene Davidson and Running Subway
The Lowry, Salford
–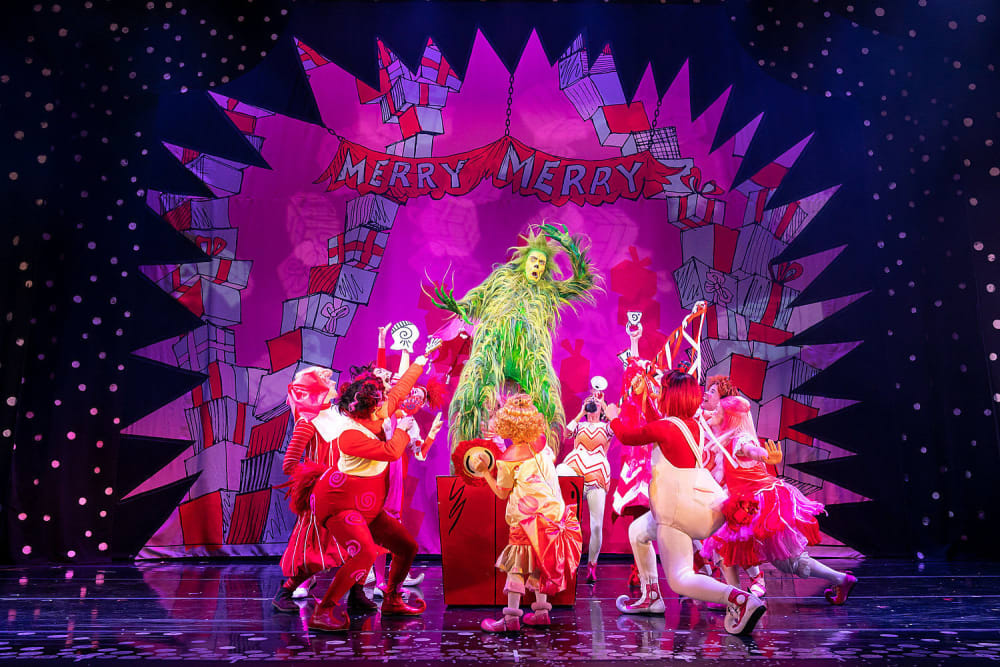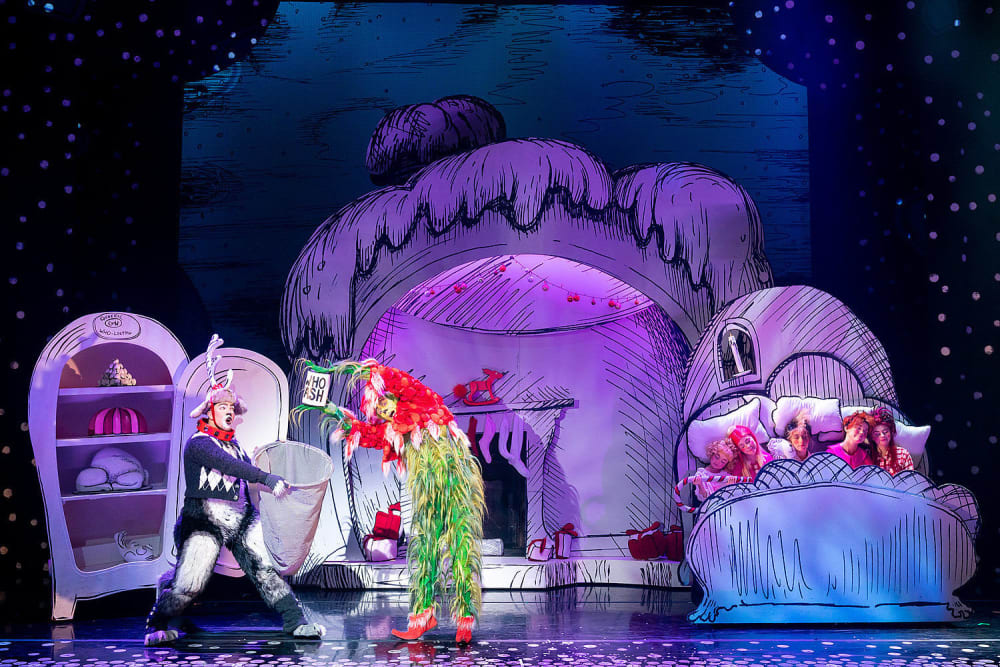 The Lowry's Lyric Theatre is fully immersed in the Christmas spirit with its seasonal offering of a musical firmly rooted in the seasonal of goodwill—even if its title character isn't.
Timothy Mason's book and lyrics mimics the style of the Dr Seuss rhyming couplets fairly accurately in his dialogue and narration as well as his lyrics, which are set by Mel Marvin into some appropriately jolly songs. It expands effectively into a full-length (but not too long) show the original 1957 story of the grumpy Grinch who hated Christmas and who lived just outside the town of Whoville, whose inhabitants, the Whos, love Christmas and are fully immersed in their preparations for it—although there is a note of scepticism from Grandpa Who (David Bardsley) about the cost of presents when they sing "It's The Thought That Counts" but clearly the amount they spend is important to them.
The Grinch, pained by the raucous singing and festive jolliness, decides to spoil things for the Whos by dressing up as Santa stealing their presents, trees and even their Christmas feast on Christmas Eve, helped reluctantly by his dog Max disguised as a reindeer. A tiny Who child, Cindy Lou Who, seems to have stirred up some feeling in the nasty Grinch, but he completes his mission anyway, but, rather than being destroyed by his actions, the Whos celebrate Christmas just as joyfully even without all their 'stuff', prompting a change of heart in the green one.
The whole thing has a bit of a corporate feel to it, but it has a very bright and cheerful look courtesy of set designer John Lee Beatty and costume designer Robert Morgan that faithfully conjures up the look of the original book and the pace never flags—there are credits for 'original director' (Jack O'Brien), 'original Broadway and UK director' (Matt August) and 'associate director' (Christian Durham), so I'm not sure who had the final say in the production we saw. The spectacular ending to act one, when the Grinch's sleigh and fake reindeer towing it actually fly, was a bit all over the place on press night as it took a while for the two to be facing in the same direction—perhaps they'll get this under control later in the run.
Naturally, the star of the show is the Grinch himself, performed by Edward Baker-Duly with perhaps more than a nod towards Jim Carey but he still steals every scene he is in and gets in some good panto-villain-like banter with the audience. This is a pretty cool Grinch, and one with whom it's easy to sympathise when he's covering his ears to the Whos singing in high children's vocal ranges through a sound system that is painfully harsh. Other top billing goes to Griff Rhys Jones as Old Max, who is great as our narrator, looking back in his memory to when this happened, and has quite a moving duet with his younger self, "This Time of Year", examining what he used to be and hope for.
Young Max is X Factor winner Matt Terry, who isn't particularly convincing as a younger version of the character Rhys Jones is playing but sings and dances well as an excitable puppy. Also deserving of a mention is Isla Gie, the only genuine child in the company, who is wonderful as Cindy Lou Lou (a part she shares with Eve Corbishley, Bebe Massey and Sophie Woods).
All-in-all, it's a well-packaged piece of family entertainment, but it isn't a cheap night out by any means: tickets for most performances start at nearly £30 plus "transaction and delivery fees" and the brochures—which just feature lines from the book with photos from previous productions of the show, not this one—are an eye-watering £8 (double the price of the book itself on Amazon), but you do get a pull-out list of cast and crew, some of which you may need a magnifying glass to read, and an extra photocopied insert to add Griff Rhys Jones to the cast, which misspells his name.
Oh, and never book for The Lowry when there is a match at Old Trafford or you could, like I was, be sat at a traffic light that stays on red for the best part of an hour, effectively closing the road and gridlocking Salford Quays without any alternative routes provided; if you have little ones, this could mean a much later night than you were planning.
If the last couple of paragraphs make me seem a bit Grinch-like, I did have lots of fun and it's certainly a much more polished production than Doctor Doolittle, the tour of which was closed prematurely soon after its Christmas run at The Lowry last year. At an hour and fifty minutes, it doesn't outstay its welcome and means it isn't too late for the younger ones (if there's no football on), so if you want to splash out on a Christmas treat, it's certainly a great one to consider.
Reviewer: David Chadderton