Dr Seuss's The Lorax
Adapted for the stage by David Greig
Old Vic Theatre
–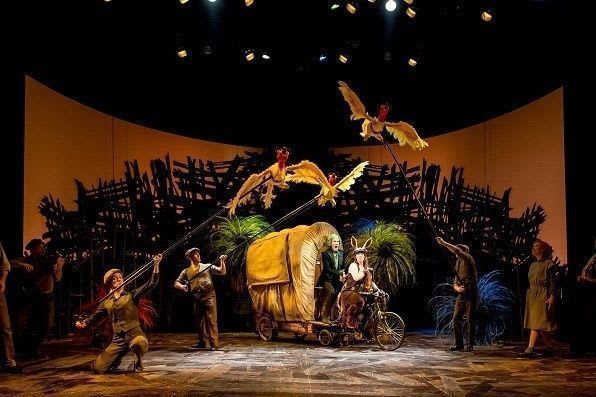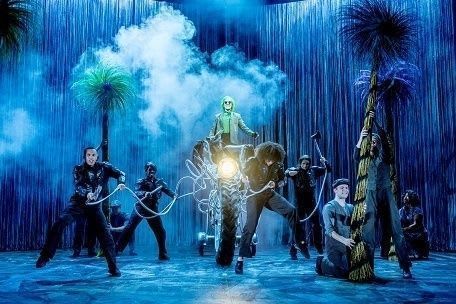 Two different opening lines could be equally applicable to David Greig's new adaptation of The Lorax. Take your pick from:
"The Old Vic's seasonal show for kids is an amusingly staged version with music of Dr Seuss's 1971 tale of a little beavery chap and his green-everythinged friend ".
or:
"Rather than a pantomime, The Old Vic has chosen a politically-charged, eco-thriller parable about the destruction of the planet by greedy industrial conglomerates".
It seems a good bet that the younger audience members will enjoy the visual effects, puppetry, rhyming couplets, puns and song and dance.
Their older companions might be relieved that amidst the cuddly animals and dancing folk there is a story that they can really get their teeth into an intelligent show with the unequivocal message that it is time to stop destroying trees and by extension our planet.
The creative team led by director Max Webster has done a good job of bridging the age gap and ensuring that the 3-year-old in row F on opening night had a good time as well as his elder brothers, parents and the various grandparents enjoying quality time with the youngsters.
Dr Seuss's plot is relatively simple: on one side is The Lorax, a two-foot tall, good-natured brownie-orange puppet with a walrus moustache, sung and articulated by Simon Lipkin. He is accompanied in manipulating the mini-hero by Laura Cubitt and Ben Thompson, the latter bent double for most of the evening while operating the feet—in this field the equivalent to playing the hind legs of a panto cow.
In opposition is Simon Paisley Day's The Once-ler, a very green and rather complex man who finds a get rich quick formula by creating a badly knitted Thneed and, even better, the magnificent and witty Thneed 2.0 that is a licence to print money but comes at the cost of forests of trees and his own integrity.
The pair genteelly fight out a battle between raw simplicity and city greed or, put another way, ecology and high finance for 2¼ hours until the evening reaches a suitably moral and regretful ending.
The way is littered with attractive images courtesy of designer Rob Howell, that peak with dreamy Paradise Valley, endearing puppetry courtesy of Finn Caldwell and songs/music from Noah and the Whale's Charlie Fink, which cover the spectrum from beautiful guitar solos to heavy rock.
This critic is not well-placed to determine whether younger Dr Seuss addicts will find the staging satisfying. However, judging by the rapturous standing ovation at the end of the performance, the Old Vic could well have a hit on its hands.
Reviewer: Philip Fisher