Dracula
Adapted by Theresa Heskins based on the novel by Bram Stoker
New Vic Theatre
New Vic Theatre
–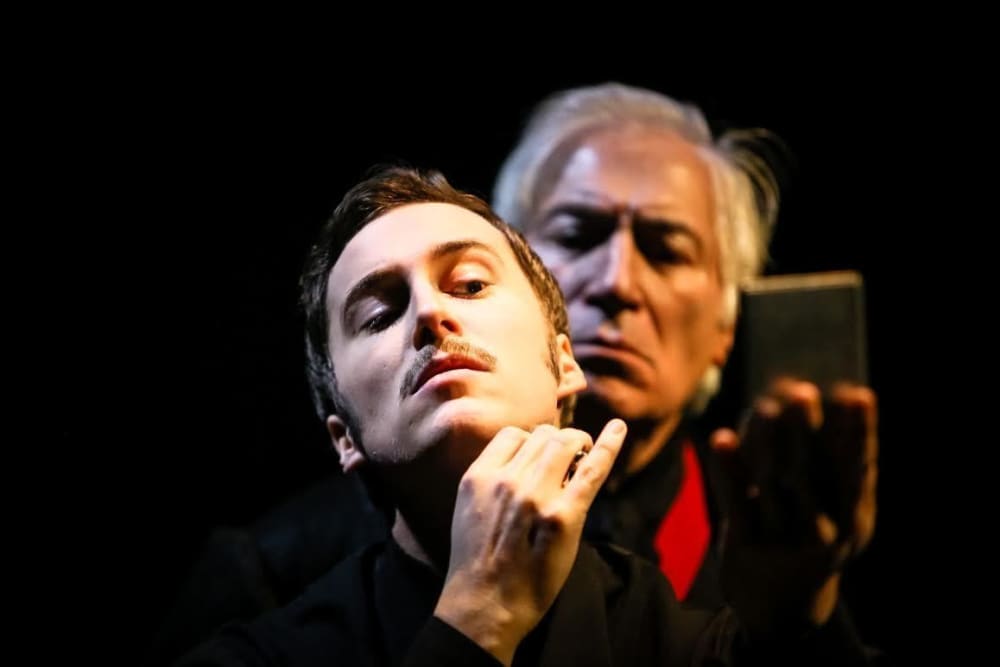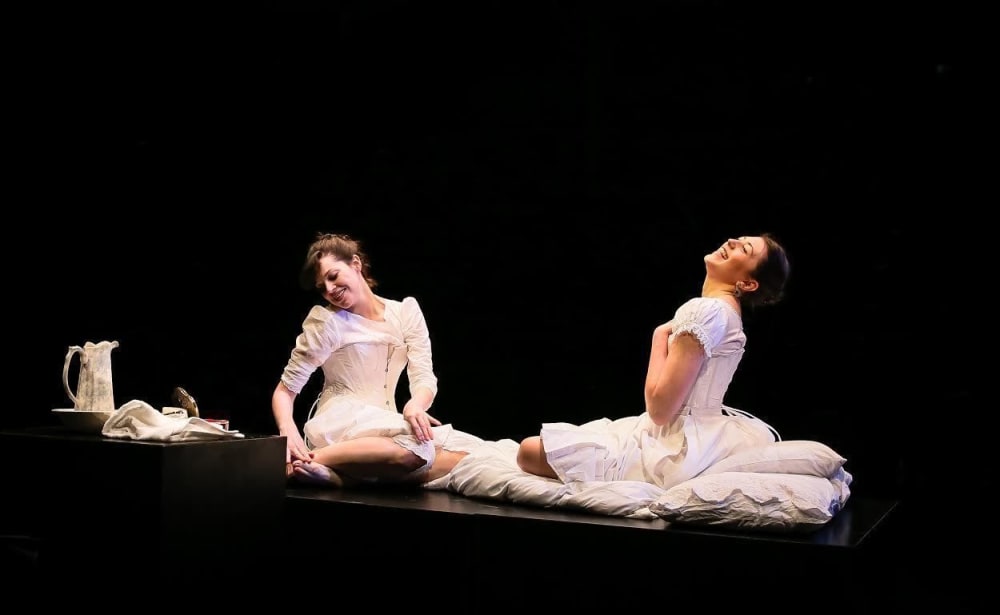 New Vic artistic director Theresa Heskins challenged her creative team to move out of their comfort zone for her adaptation of Bram Stoker's Dracula.
She certainly gave them something to get their teeth into and the result is one of the most inventive plays I have seen—and that is from a theatre which thrives on imaginatively staged productions.
For the third time in her tenure at the New Vic, Theresa Heskins has brought in aerial company Upswing to lift a show to new heights. In 2009, Upswing's aerial director Vicki Amedume came up with astonishing effects for Bryony Lavery's adaptation of Magdalen King-Hall's novel The Wicked Lady and the following year she showed Peter Pan how to fly in another Heskins adaptation.
For Dracula, she produces some stunning sequences. Hazel Lam, Sophie Morris and Rebecca Rennison are three "brides" of Dracula whose acrobatics on silks are part of a plot to seduce initially solicitor Jonathan Harker and later Dracula's arch enemy Van Helsing in their quest for new blood.
The play also features three tables set up at different points towards the roof of the auditorium from which sound effects are played live. Actors who are not involved on stage climb up in front of jars, glasses and a multitude of objects which are used to create a number of chilling effects. You can hear everything from the sound of heavy doors being closed to a stake being hammered into someone's heart.
My favourites were a plastic bag recreating a crackling fire and the bristles of a sweeping brush being swished across a snare drum to signify waves lapping on the shore.
Sometimes I found myself watching how an effect was created rather than looking at the action on stage. Yet Dracula is by no means style without substance. The acting is first-rate and just as impressive as the slick staging.
Jack Klaff adds to the dark, brooding atmosphere as the elderly Dracula, his deep, booming voice sounding hypnotic and his stiff, slow gait increasing his sense of mystery.
Jonathan Charles as the youthful Dracula looks similarly enigmatic but moves with more purpose when he senses blood.
Isaac Stanmore is sparky as Jonathan Harker, Ali Watt shows a touch of eccentricity as Dr Jack Seward and John O'Mahoney is strong with an authentic Dutch accent as Van Helsing.
Probably the finest performance comes from Sarah Schoenbeck as Harker's fiancée Mina. She goes through a huge change, from a confident, outgoing young woman to a severely ill patient after succumbing to Dracula's charms and finally to a brave heroine who prevents Van Helsing giving in to the three brides.
Jasmine Blackborow, making her professional debut, gives a sparkling display as Mina's friend Lucy who becomes one of Dracula's victims.
There is one point towards the end of the first half when the production drags slightly. But for the most part Theresa Heskins directs with an assured touch; this is probably the finest piece she has adapted for the New Vic stage.
Will this version of Dracula impress you with its blood-curdling tension, passion and bite? I'd stake my reputation on it.
Reviewer: Steve Orme