Dracula: The Untold Story

imitating the dog
The Courtyard, Leeds Playhouse
–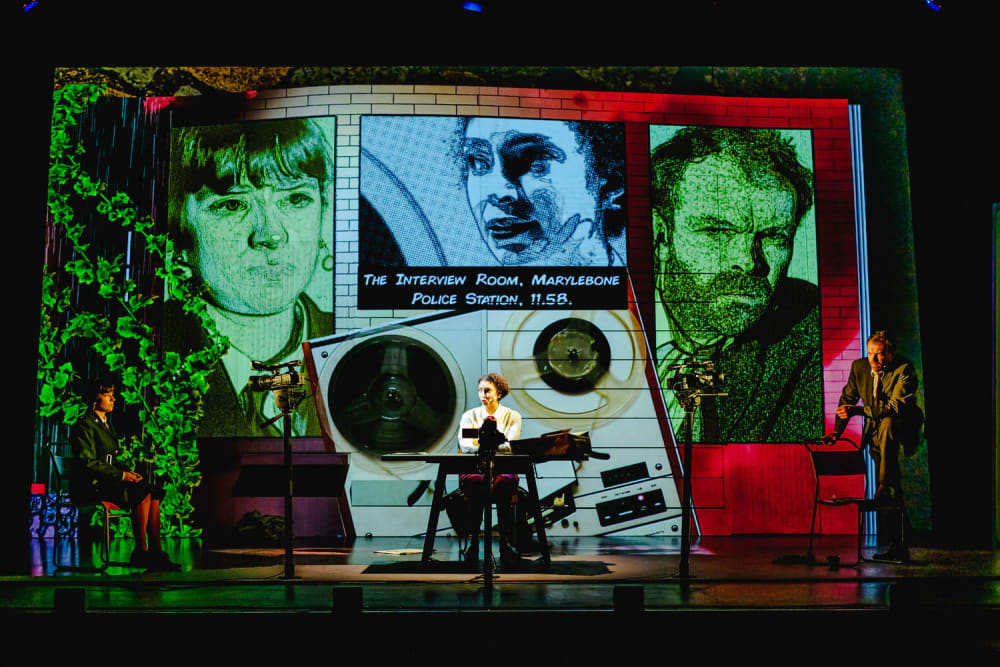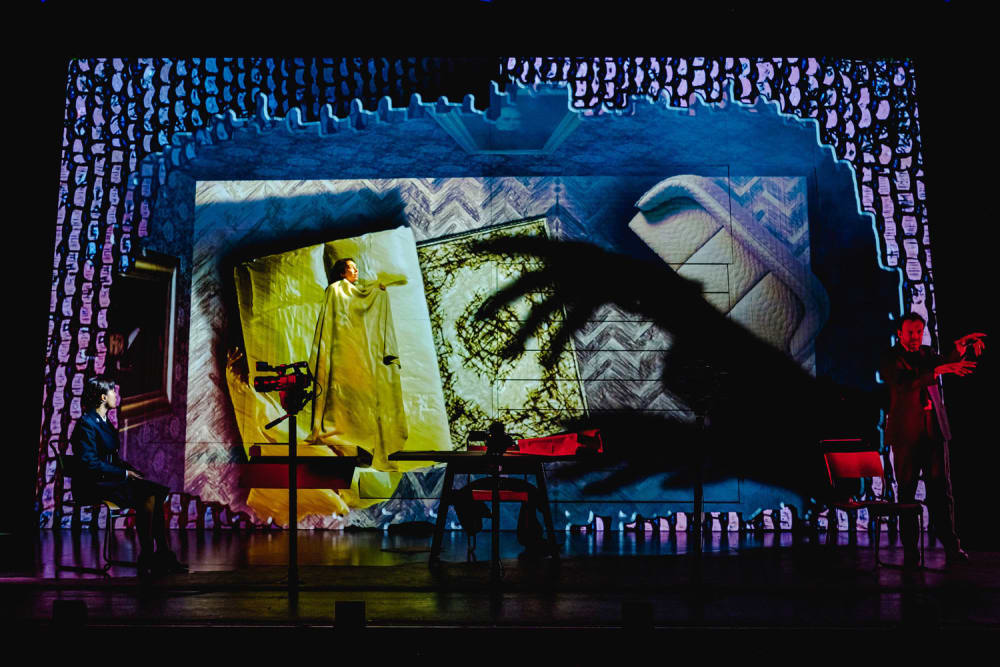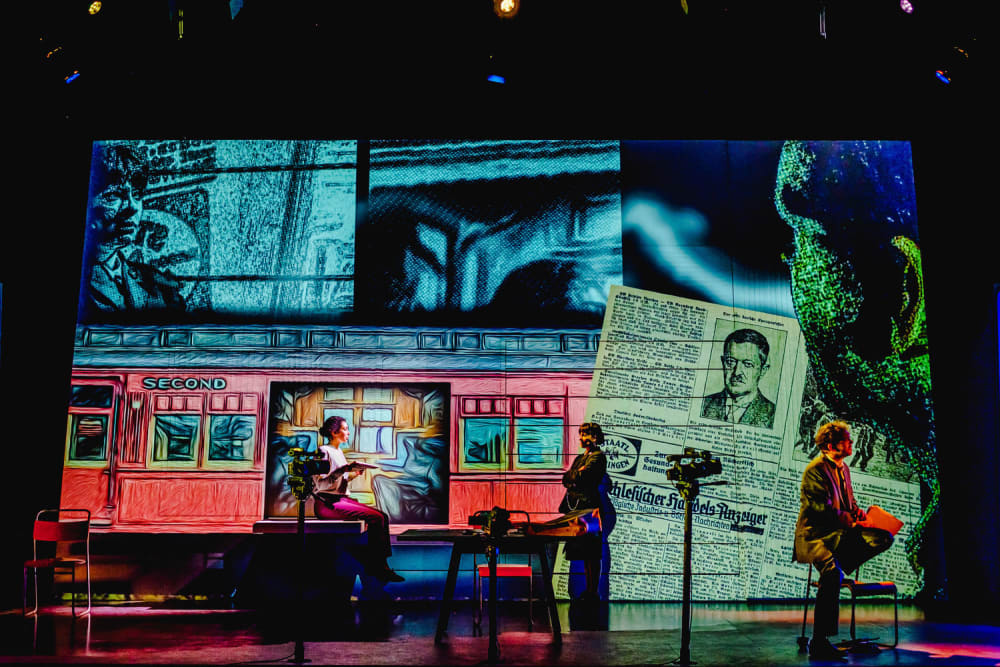 The appeal of Bram Stoker's Dracula, first published in 1897, is as long-lived as its eponymous antagonist, with thousands of interpretations and reinventions appearing across film, television and graphic novels in the time since then.
This latest reimagination is best viewed as more of a sequel than another reboot. Imitating the dog profess to having long wanted to adapt the novel—and to embrace its subsequent, famous, on-screen incarnations such as the iconic 1922 film Nosferatu. But with their pre-pandemic experience of mounting a live shot-by-shot remake of another horror classic, Night of the Living Dead, fresh in their minds, they have chosen to steer this production towards an alternative take on the characters of the source material.
They have thus shaped the piece around Mina Harker (Riana Duce), who turns up in a police station in 1960s England claiming to have insights into a recent, baffling murder case. More perplexingly for the coppers involved, she declares herself to be the very same Mina Harker who featured in the killing of Dracula, and whose editorial hand gathered the first-person accounts that were published in 1897; in this timeline, the events of Dracula are history rather than fiction.
The show begins with the company of three (newcomer Duce, and always watchable returning ITD performers Adela Rajnović and Matt Prendergast) entering the bare white set to take up their positions at socially-distanced spots across the width of the stage. Each is paired with a single, more-or-less static camera.
Using live video and digital enhancements, the company creates a projected image of cinematic scale, bearing resemblances to past work such as Heart of Darkness. But here the graphic novel-style presentation is dialled up to 11.
After a well-paced and intriguing prologue between the three performers, using minimal camera-work or digital trickery, the graphic novel format literally 'opens up', with a turn of the (digitally-created) page. An impressively mobile set of images acts as a title sequence and sets the tone and aesthetic: the on-screen image is almost constantly on the move thereafter, from 'frame to frame' of the comic strip and across cartoony captions and snapshots of action to come. It's really stunning work, with Simon Wainwright's video and projection, Laura Hopkins's design, and James Hamilton's score combining to generate a real sense of energy and excitement.
Plaudits must also go to Rory Howson's immersive sound design work, with touches like the rain pelting against the roof of the police interrogation room really setting us firmly in a specific place, while more expansive moments of adventure and action draw on visceral and appropriately dramatic effects.
This is, essentially, the case throughout the show's two (relatively short) halves: the imagery is dynamic, introducing new tricks, twists and effects at opportune moments. Combined with the often-dense dialogue and compressed narrative, with some scenes even played in a range of languages (subtitled by onscreen captions), the show at times generates a real sensory bombardment—it's occasionally almost too much to take in.
And it's remarkable to be able to reflect on how little the performers are doing, physically, to generate this: it is enlightening to be able to look across from actor to screen. Three powerful cinematic performances are created in real time, from such simple means and on such a small, human scale in comparison to the superhero scope and complex processing of the projected imagery. All three performers are compelling and convincing, with Duce carrying a weight of narrative exposition with poise and eloquence.
Co-writers and directors Andrew Quick and Peter Brooks, along with their collaborators, are to be commended for pushing the imitating the dog aesthetic (and technology) further and further. The story itself, it has to be said, feels secondary, and relatively thin: it's the sort of alternative timeline, butterfly-effect action fantasy that wouldn't feel out of place as a pitch for an episode of Doctor Who, but it feels rather narration-heavy.
There are some other occasionally clunky dramatic moves, such as the 'radio broadcast' device which tells us all we need to know about the alternative timeline we're in. And I may well have missed something in the comic-book blur, but in retrospect I was left still wondering exactly why Mina chose to come and recount these stories to this pair of plods at this particular moment, and why—if she was thus motivated—she initially clammed up (other than to generate some suspense as the play begins).
The drama might be slightly unsatisfying, then, but the construction surrounding it—the whizz-bang comic book action—is genuinely thrilling and hugely impressive. Visually, sonically, and technologically, imitating the dog are innovating again, and I'd recommend taking a seat for the action.
Reviewer: Mark Smith