Dragon
Oliver Emmanuel
Vox Motus
Royal Lyceum Theatre
–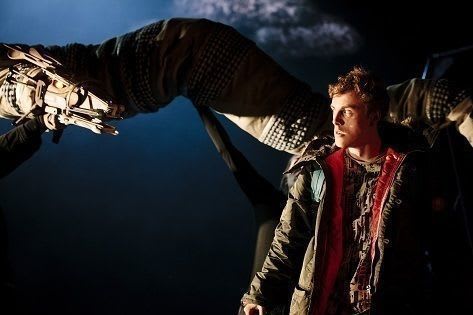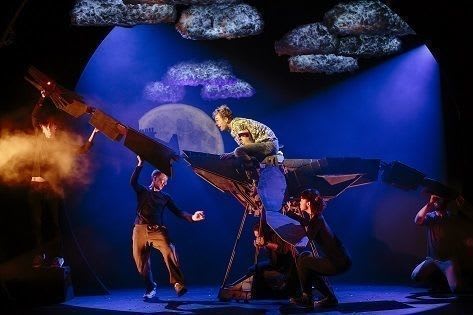 Scottish company Vox Motus has a unique aesthetic that appeals to viewers of all ages.
Dragon is primarily directed to younger audiences but, even though the 80-minute performance is wordless—until the final moments, accompanying adults should be wowed as much as the youngsters.
Scott Miller, who plays the protagonist Tommy, is still at drama school but this is a rather better summer job than most of his fellow students will be enjoying.
He portrays a troubled schoolboy who gets bullied and struggles to deal with the every day. He also faces issues relating to his mourning Dad, who has lost his wife but eventually finds a new friend.
Sister provides little support and even a putative girlfriend is merely a source of further unhappiness.
Into Tommy's life comes a Dragon, or to be more accurate a whole pack of them from a tiny version up to a giant that would be worthy of Chinese New Year celebrations and requires the support of the whole of the rest of the cast.
This is a symbol of Tommy's inner troubles but does give him a kind of unwanted inner strength, rather like a glass of Dutch courage. It also enlivens an already entrancing production.
The play though shows more about the youngster's need to conquer inner demons and achieve peace with himself as much as the world.
The story is a worthy morality tale but what makes Dragon special is the imagination and artistry of directors Jamie Harrison (who is also the designer) and Candice Edmunds along with Harrison's co-puppet designer Guy Bishop.
It isn't just the dragons that are both beautiful and practical. There are numerous other memorable images, in particular a swimming pool and bicycle, that will be appreciated by visitors of all ages.
This is a pleasing Scottish venture (supported by The National Theatre of Scotland) that invites the young to participate in the Edinburgh International Festival and should be the start of a long-term project to expand the target market for the Festival.
Reviewer: Philip Fisher