Dramatic Critic
Charles Morgan
Oberon Books
Released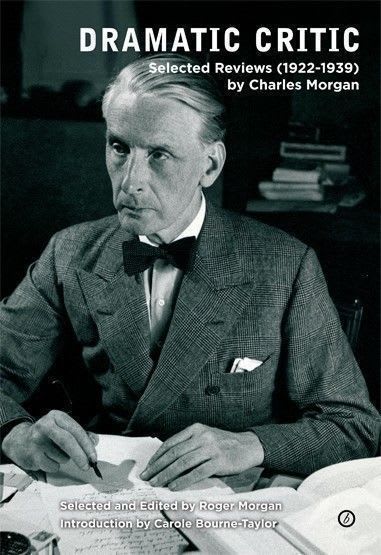 There is a strange fascination to reading reviews of theatrical productions from long ago. In the case of this volume, Charles Morgan was the anonymous theatre critic for The Times and other publications in the period from 1922 to the outbreak of war in 1939.
There are three obvious attractions to this kind of volume. First, we have an opportunity to learn about plays and playwrights that were popular almost a century ago. Inevitably Shakespeare is there but Ibsen features large, Shaw gets a good look in with two superb portraits of The Apple Cart, while RC Sherriff's Journey's End is described well but its posterity is misjudged hilariously badly.

Dramatic Critic also features many playwrights lesser-known today, whose work could well be due a revival, meaning that this collection could prove popular with artistic directors seeking out of copyright plays to revive.
Secondly, one gets the chance to discover actors of historic note such as Mrs Patrick Campbell but also others later made famous by the big screen or stage work in careers that stretched into 1970s and 1980s. Those that would eventually become Sir John Gielgud, Lord Olivier and Dame Edith Evans all make significant contributions in their much younger days.
George Devine, who is now almost exclusively feted as the Artistic Director at the Royal Court and without whom kitchen sink drama would never have been created, spent much of this period on the West End stage, rarely taking leading roles.
Finally, readers can enjoy the literary style of a critic who was also a playwright and clearly loved his subject.
There are many insightful comments and, to pick just a handful, few will quibble with "for every Englishman who thinks of Shakespeare as a poet and entertainer there are a dozen who regard him as a duty and a bore", complemented by "far from neglecting the poor man, we have strangled him with our idolatry and embalmed him without reference".
The pick of the bunch was Gielgud's lead/director 1934 production at the New of which Morgan pronounced "If I see a better performance of the play than this before I die, it will be a miracle".
On the first production of Private Lives, Morgan prefigured almost every subsequent viewer with his barbed comment, "Mr Coward has an unsurpassed gift for combining entertainment with nothingness".
Regrettably, even the best critics don't always get it right. While enjoying the best that Sean O'Casey had to offer, Mr Morgan opined "That in the long run Juno and the Paycock will rank with The Playboy [of the Western World] as a piece of theatre or that it will be remembered as a work of art when the The Cenci is forgotten I find it hard to believe". For those that have forgotten, the last mentioned of these works was written by no less than Percy Bysshe Shelley.
Inevitably, Charles Morgan writes well but it will seem strange to contemporary readers to follow a critic who is so devoted to explaining plot that, were he working today, frequent spoiler warnings would be required. For example, anybody reading this volume without having seen Porgy and Bess would do well to avoid the review of DuBose and Dorothy Heyward's original stage version.
In addition to reviews for The Times and the New York Times (the latter longer and frequently better), there are other articles about varied topics, for example the theatre as a business and, more than once, that old warhorse a national theatre, not to mention the odd movie and event.
Charles Morgan is one of those critics who picks up on mood and personal philosophy, delivering very strong and singular opinions about what a play or performance is based on, many of which might well have been controversial in his own day and could well have elicited protests from those involved in building up productions. He was also fearless in criticising those whom he thought were substandard in a way that would be unusual today.
As such, this is a richly enjoyable book that will give readers many hours of pleasure as they wend their way down memory lane.
Reviewer: Philip Fisher