Drawn to the Globe
Chris Duggan
Ancon Hill Publishing
From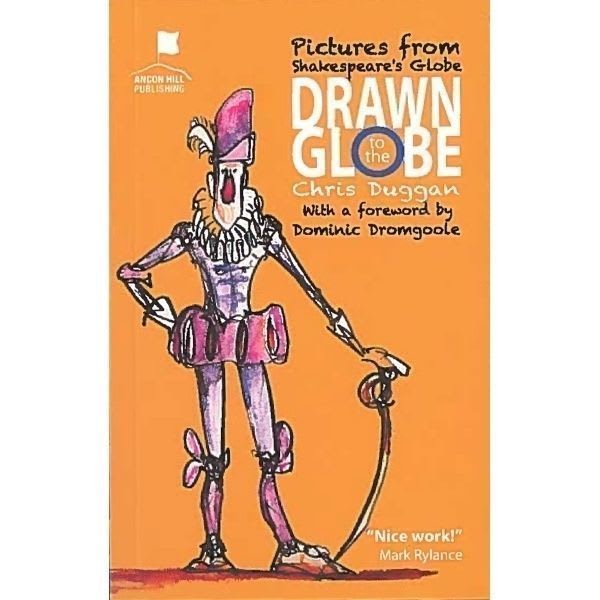 Chris Duggan is obviously deeply in love with Shakespeare's Globe. Indeed, judging by this literally pocket sized publication The Times's business cartoonist must have seen far more productions there than almost anybody else.
Drawn to the Globe consists of close to 200 illustrations that the cartoonist and illustrator has made while on visits to the theatre.
They cover pretty much the whole period from its opening to date and are generally organised in alphabetical order of the character depicted.
In each case, a short quote from Shakespeare is accompanied by an illustration that can be anything from a quick pencil sketch to a full-scale colour printing.
Together, they create both a brief overview of the Shakespearean canon and an attractive representation of what has been done with it in the couple of decades since Sam Wanamaker's vision was finally created and opened to the public.
The illustrations are generally of characters rather than actors, although in some cases, for example Mark Rylance as Olivia or Michelle Terry's Rosalind they become more personal. Going beyond Shakespeare, we also see visions of Gemma Arterton depicting the Duchess of Malfi and Lily Cole playing Trojan Helen in the Simon Armitage version.
Portraiture is not particularly Mr Duggan's strength, which lies more in getting to the heart of a character or a production.
A good number of the pictures are also taken from the Globe to Globe season, which bought companies from around the world to appear (and one imagines shiver in many cases) in the open air on the banks of the Thames.
There are also special sections on areas of specific interest such as music and the Sam Wanamaker Playhouse.
Chris Duggan saves the best until the very last with a delightful colour illustration of the theatre itself. This book also acts as a catalogue since every picture is for sale and this one could prove the most popular.
This is the kind of book that is best enjoyed in very small doses, readers relishing no more than half a dozen illustrations and their underlying stories at a time. It is helped by its tiny dimensions, which will easily fit into a jacket pocket, without spoiling the cut.
As readers may well have gathered, Drawn to the Globe is a perfect gift book for anyone devoted to the Bard, the Globe or Mr Duggan's artistic endeavours.
Reviewer: Philip Fisher