A Midsummer Night's Dream
William Shakespeare
Chichester Festival
(2004)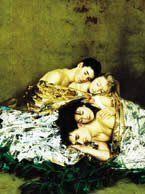 Shakespeare's own guidelines for directors of A Midsummer Night's Dream may be found in Puck's departing plea as this mischievous sprite vanishes into the mist.
A prescription, surely, for a magical play about the insubstantial lovers, flowers and fairies - a dream, in fact. Now there's an idea!
But not, apparently, if artistic imagination is constrained, subservient to the greater god of the Festival Theme. Such, indeed, was the lot of Gale Edwards as she contemplated her Dream for the 2004 Chichester Festival. "We weren't setting out to do A Midsummer Night's Dream," she explains in programme notes, "we were setting out to do it in a season called Out Of This World."
The result is not an argument for themed seasons. Sombre, when it might have been ethereal, inarticulate, when it might have been eloquent, ordinary when it ought to have been well magical.
When Olivier insisted upon sets for the new, thrust stage Chichester Theatre in the 'sixties, there were dark murmurings of a missed an opportunity to invoke the spirit and practice of the original Globe. How I longed for a few trimmings this week, apart, that is, from the hoops which served only to remind me of the Peter Brook production in another age.
Thus, there cannot be criticism of design, for there is virtually none, save that of the theatre architects who, clearly, are to be warmly thanked for all they have achieved for audiences over many years.
None of this would matter one jot were there players with a sense of style and voices to match. I realise today's young actors address their own times. Does this, however, excuse them altogether from learning to speak and deliver dialogue in a manner that will not only catch the ears of their audiences but also thrill them into remembering the experience for the rest of our lives?
Of this production, there abides a memory of Oberon (Jeffrey Kissoon) struggling to achieve precisely that. Around him, listless fairies linger purposelessly while Akiya Henry, Daisy Haggard, James Loye and Joe Anderson, as the star-crossed lovers, rush to and fro as if to supply that purpose.
Now and then, the Mechanicals, led by Jonathan Cullen (Quince) and Graham Turner (Bottom) enter to cause much genuine and widespread amusement. What a pity, therefore, that just as they reach their piece de resistance, the director banishes them to the gallery where there is little in the way of lighting to enhance their performance.
The play, of course, is the thing. What, however, if the company arrives for a new reading without their magic. Herein lies Puck's dilemma.
"A Midsummer Night's Dream" plays in repertoire with "Out Of This World", "Just So" and "The Master And Margarita". Details from box office: 01243 781312.
Reviewer: Kevin Catchpole