Dream of the Dog
Craig Higginson
Meeting Point Productions Ltd in association with Neil McPherson for the Finborough Theatre
Finborough Theatre
(2010)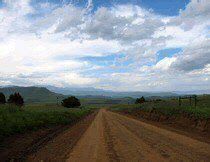 Dream of the Dog is both an allegory of Apartheid South Africa and a moving story in its own right. At its centre are an old couple way out in the veldt of KwaZulu-Natal.
By the early years of the current century, Patricia and Richard Wiley have become endangered anachronisms. Indeed, a neighbour has recently been murdered and the ageing couple are about to move to safety in Durban.
On their last day, skeletons flood from their bare cupboards, changing not only our perceptions but their own.
Janet Suzman's Patricia is an intelligent liberal, like the actress herself. Her husband, a Yorkshireman played by Bernard Kay, is suffering from dementia but probably remembers and understands more than he lets on.
Their simple, penniless existence is made possible thanks to the efforts of their long-term servant Beauty (Gracy Goldman) and her unseen husband.
Into this sleepy existence comes the old houseboy and now a successful businessman. "Look Smart", given vigour and humanity by Ariyon Bakare. He really shakes everyone up by taking the Wileys back fifteen years to a tragic incident.
What had seemed like a horrible accident when Beauty's sister Grace was savaged by a dog takes on a much more sinister light as it is recalled by "Look Smart", Grace and even Richard making us look at all four characters in a new way.
Craig Higginson's well-crafted script not only tells us about these representatives of their peoples but with its story of young Blacks raped and enslaved but also educated and patronised by the forgetful, old ruling White class, says so much more.
Director Katie McAleese overcomes a slow start to grasp and hold the attention throughout the remainder of 90 gripping minutes. In this she is given great support by all four actors, with Janet Suzman particularly notable in a part that might have been written for her.
Simon Sladen reviewed this production when it transferred to the Traflagar Studios
Reviewer: Philip Fisher