A Dream Play
August Strindberg in a new version by Caryl Churchill
RNT Cottesloe
(2005)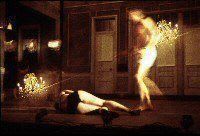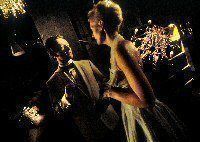 Katie Mitchell's reworking of Strindberg is attributed to Caryl Churchill but also to the director and cast. This fast-paced, fluid production is never short on ideas but there is a well-founded suspicion that it has moved a long way from the rarely performed Scandinavian original.
Strindberg based his 1901 play on a trip by Indra's daughter Agnes to try and make sense of the delights and pains of the earth. From this, the company has taken often memorable ideas and images and woven a new, updated dream.
Set in 1950s London, it enters the dreams of Alfred Green, an Everyman played by Angus Wright. In a series of short scenes, the atmosphere is often more reminiscent of Matthew Bourne than Miss Mitchell as dance and choreographed movement often predominate.
Green is a stockbroker whose life has had its ups and downs. His dreams are not linear so that we drift backwards and forwards in time, sometimes in slow motion and once, quite hilariously as he is cuckolded by his ballerina wife, in Fast Forward mode leading to decrepit old age.
Wright is supported by an ensemble who must be close to collapse by the end of 80 minutes and probably almost as many costume changes. They also have to drag props on and off Vicki Mortimer's flexible set.
The key motifs are childhood and death, wives and ballet as poor Green is led a merry dance through a difficult life with which he is always struggling to come to terms.
He is accompanied through his dream by an angel, Agnes, whose goodness is negated by a terrible cupboard that increasingly returns to haunt Green. This is the legacy of a childhood prank that went wrong and is eventually shown to contain true evil.
Along the journey through Green's life, several messages emerge. The meaning of life is - nothing; but this may not matter as echoing Spanish playwright Calderon, Life is a Dream. If we endure, then we may attain happiness, presumably in the afterlife, but not necessarily that anticipated by organised religion, which is lampooned rather unkindly.
By the end, some kind of meaning appears but the pleasure in A Dream Play is to allow someone else's (or even a team's) dreams to drift over you, in much the same way as your own do.
This is an unconventional version of an unconventional play. In many ways, it has the kaleidoscopic effect of Strindberg's dream play fragmented through another dream. It will have devotees and detractors but, in particular, those Bourne fans who enjoy dreamlike fusions of ballet and theatre will lap it up.
Reviewer: Philip Fisher