A Midsummer Night's Dream
William Shakespeare
Rose Theatre, Kingston
(2010)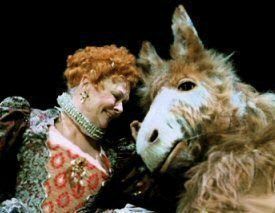 Media buzz about Peter Hall's surprise casting of the septuagenarian Judi Dench as Titania, a voluptuous fairy queen, has put Kingston's Rose Theatre firmly on the map. And it proves to be an excitement not misplaced.
In 1962 as a fledgling member of the then newly-founded Royal Shakespeare Company, Dench took over the same role in Hall's Stratford revival of A Midsummer Night's Dream, winning modest press praise. Now, almost five decades later Dame Judi's rich, warm and sexy Fairy Queen is the talk of the town and a hot box office property.
To my equally ancient eyes this is also a brilliant return to form for Sir Peter with all the qualities that signalled his greatness as a director at Stratford and the Aldwych back in the sixties and seventies.
More recently his first Rose Shakespeare was a well-spoken but frankly incompehensible Love's Labour's Lost, with emphasis on the pentameter line endings and not enough on the plot, action and gags.
Now comes his Dream bearing all the hallmarks of a timeless RSC production: superb verse speaking of course, and a total respect for Shakespeare's text; a production style that sheds new light on an old familiar play without drawing attention to itself; and a sense of ensemble playing, seamlessly combining sage with tyro while allowing newcomers to emerge as company stars in their own right
If Shakespeare's setting is mythical Greece, Hall's staging, designed by Elizabeth Bury, is handsomely Elizbethan with a monochrome Modernist touch.
Here we get the Stratfordian polished black floor, plus a stark backdrop of skeletal cut-out trees to suggest the forest setting, while the 16th century costumes are carefully colour-coded: notably black and silver for the fairy troupe and creamy white for the youthful lovers, but shades of rust for the nobles, matching Dame Judi's red wig.
The evening begins briefly if disconcertingly with the cast as courtiers responding to her first entrance as Queen Elizabeth the First who, snatching a scroll from a bowing nobleman, waves the actors to begin the play. Thereafter everything is blissfully clear, her Gloriana returning to portray the Fairy Queen with radiant wit and warmth, the sole change of costume being to discard her high wing collar for a neck-enclosing ruff more suitable for her sexy forest frolics with an ass.
Is she now too mature to play a lovelorn, passionate fairy? Happily her lively stage personality and light, youthful voice in practice render the question irrelevant - in any case the fairies are immortal and thus ageless. My one regret is that her casting has not been matched age for age by a male survivor from the great days at Stratford to play opposite her as Oberon.
In the event, Charles Edwards as a dashing young Oberon with a Mark Kermode quiff of hair is somewhat upstaged by his queen, and is later also overshadowed by Reece Ritchie who plays Puck as a compact, reborn Edmund Kean in a furiously scene-stealing mode of dynamic energy and melodramatic hi-jinks that, quite properly, emerges from his role and his magic lines.
The emerging stars of this production, touching true greatness, are Rachael Stirling whose heartbroken Helena is a model of verse speaking, isolated in a single spotlight at the end of the first scene, and Oliver Chris as a brilliant Bottom the Weaver.
As it happens, these two first worked together three years ago in a mould-breaking production of The Taming of the Shrew at Wilton's, she as a honey-toned, sweetly reasonable Kate to his amusingly oafish Petruchio. Here, under Hall's precise direction, they emerge as newly patrician bearers of the future for English theatre.
Her Helena has another sustained and wonderful scene as one of the quartet of squabbling lovers, she in contention with Annabel Scholey's fine Hermia. Meanwhile he wears Bottom's donkey head to superb comic effect as he brays expressively in the love scene, and later illuminates the rude mechanicals' amdram production, played with Warwickshire accents, giving a brilliantly funny performance as a declamatory Pyramus refusing to die.
Kill for tickets! Or perhaps trot along to the Kingston box office for one of those restricted view seats that are not being sold on-line - it may be your only chance.
Reviewer: John Thaxter