Dream Story
Arthur Schnitzler, adapted by Anna Ledwich
The Gate, Notting Hill
(2011)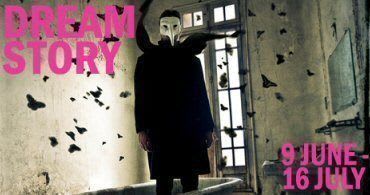 Sigmund Freud was fascinated by other people's dreams and made his reputation from interpreting them. However, for mere mortals, all too often dreams other than one's own have little or no meaning or interest.
It is also always difficult to portray dreams on stage and solutions rage from multimedia to dance or reportage, perhaps with a degree of representation.
Anna Ledwich, who has both adapted and directed this claustrophobic, steamy drama, revived Lulu in a radical, uncompromising production at the Gate last year and seems to enjoy presenting sexually challenging work from long ago.
This time around, she has chosen Dream Story, a play set in the jazz age and written by Arthur Schnitzler, like Freud a resident of Vienna. These days, he is known solely for La Ronde, a brilliant idea that is infinitely adaptable and generally well realised, rarely better than by Sir David Hare under the title of The Blue Room.
Dream Story takes us through a nightmarish night in the company of Fridolin, an imponderably tall doctor played by Luke Neal but also at times a significantly shorter version when Jon Foster gets to repeat some of his lines.
Fridolin is a sexual obsessive, as a result neglecting his wife and the mother of their infant child, Leah Muller's Albertine. While he goes off at night to carry out his medical duties, the doctor gets up to much more.
He has his way with a deceased patient's grieving daughter played by Rebecca Scroggs, literally over his dead body. He also enters a sinister masked sex party that ends in another death and gets into several other scrapes in a tiring, stressful night.
What the viewer has to decide is how much of this is dream or nightmare and to what extent some of the events are experienced in reality.
As in real dreams, there is a great deal of repetition, as the overly-excited (in several senses) doctor plays out his fantasies on stage.
By the end of 100 minutes, anyone who is not deeply prurient will probably have tired of the tedious doctor's search for pleasure and pain and revel in the prospect of a quiet night in with the spouse or even just a hot water bottle.
Reviewer: Philip Fisher