Drive-Thru Nativity
Andrew Morton
Blue Elephant Theatre
(2009)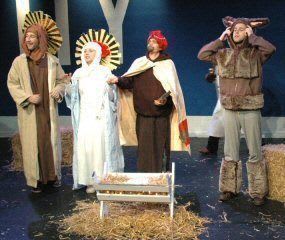 The concept of the drive-thru nativity is unfamiliar in the UK (and long may it remain so) but it would seem a common occurrence in America's mid-west around this time of the year. It is a sound-bite sized version of the nativity story delivered by Christians in costumes to a drive-through audience that goes as far as turning off its engine but doesn't leave its car. It is an idea of such questionable taste that we are encouraged to think it could only be American, and invites a good scoff both at the fundamentalists that provide these shows and those that drive through church forecourts in search of a snapshot "Bible-based Christmas experience".
Andrew Morton's look at this curiosity lasts a catchy 55 minutes which pass entertainingly enough with really funny moments and some keen lines of dialogue. The problem is that 'keen' is not penetrating, which, together with the lack of intellectual rigor, make this a frustrating piece. The nearest thing to religious argument is a girlie squabble about whether Mary would have looked fat and the dramatic tension that exists is caused by other than theological disagreement.
Some valid points are raised regarding the challenges faced by the Church in an increasingly secular and time-pressured society but in fear of offending there is no deeper examination. When any searching issue is raised it is uncritically worded and swiftly seen off with an equally tame response: "this way," we are told, "is more convenient for everyone". Mr Morton is clearly an able writer, this could have been funny and interesting, but he needs to be braver, much braver - and do something about the mawkish ending!
The sound effects provided by Chris Adams are crisp and timely and work well with the lighting design of Pablo Fernandez Baz. The cast sing well throughout, though the finale was uncomfortably reminiscent of a Jesus Army convention assuming a shared celebration of the 'God did something amazing with a baby' message.
Rachel Drazek plays Amber, who, as the minister's daughter, gets the starring role of Mary. She handles this vacuous overconfident and overbearing princess effortlessly and it is easy to believe that she could be manoeuvred into believing that God wouldn't have made Mary suffer pain in childbirth. Lucy Carson is appealing as the down-to-earth grumpily unwilling shepherd as is Caleb Rotach who has recently taken over the role of the put-upon fellow Christian who plays Joseph.
The non-believers' side is represented by three actors who are being paid to take the roles of wise men and a donkey because there were insufficient volunteers from the congregation. Andrew Root makes his moderate Wise Man the most likable of the characters. Jai Vethamony is a hard up actor with a family strictly in it for the money, and Laurence Saywood's thwarted attempts to play the third Wise Man instead of Donkey reflect his professional pretensions to comic effect.
Only a dyed-in-the-wool fundamentalist who had never seen a Dave Allen sketch could take offence at anything in Drive-Thru Nativity and there is much amuse, so if you are after a Christmas show with a "God bless us, everyone" style message but are fed up with Tim Cratchit, then this might fit the bill.
"Drive-Thru Nativity" plays Tuesday to Saturday until 19th December. Some free tickets for under 26s.
Reviewer: Sandra Giorgetti