Driving Miss Daisy
Alfred Uhry
Golden Theatre, New York
(2010)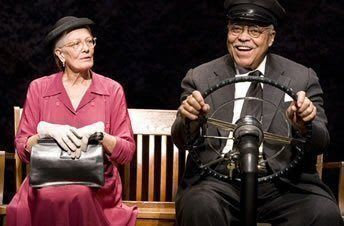 Driving Miss Daisy, Alfred Uhry's Pulitzer and Oscar winning play/movie, is basically an unorthodox romcom. It follows two oldies through almost a quarter-century, starting in 1948 when they are already septuagenarians and taking them on almost beyond old age.
It is a very old-fashioned work but makes a perfect star vehicle and the play's return to Broadway over two decades after its original success owes everything to its two stars.
Initially, it is James Earl Jones who earns the plaudits playing Hoke Coleburn. He answers an ad for a chauffeur placed by Boyd Gaines, giving the star duo unselfish support as Boolie Werthan, who, living up to his name, is "boolied" by his elderly mother, (Miss) Daisy.
However, after an embarrassing accident in a three-week old car, the old lady reluctantly concedes that she may not be able to drive as well as she once did. However, she enters into a battle of wills with first Boolie and then Hoke.
He may be illiterate but the old Black driver has inherent common sense and the fisherman's patience, which inevitably means that he will win out.
Slowly through the 90 minutes duration, he turns his mistress's dependence into love, giving us lots of gentle laughs along the way. Underlying the light comedy, there is a measure of social commentary, which is perhaps inevitable when the two main characters are an Atlanta Jewess and a "Colored" man.
Director David Esbjornson keeps everything simple (except an over-amplified soundtrack) and has the kind of cast that anyone would give their right arm for and the result is an acting showcase that any aspiring thespian would do well to catch.
James Earl Jones balances confidence with desperation and exasperation, amusing without any effort. He also brings out his character's pathos.
Vanessa Redgrave in the title role is, if anything, even better. She starts out irascible but quickly begins to show at least a little charm. Her strongest suit though, lies in the subtlety of her character's development from ungrateful potential bigot to curmudgeonly appreciation and, at the close, geriatric love.
The key here, as with all of the very best actors is her control of facial expression, seen at its very best when the by now 96-year-old protagonist has had a stroke and can barely speak.
Driving Miss Daisy contains few dramatic surprises but that is not what the producers are selling. Their product is two household names coming together to delight and they do just that.
Philip also reviewed this production on its transfer to Wyndham's Theatre
Reviewer: Philip Fisher