Driving Miss Daisy
Alfred Uhry
Wyndham's Theatre
(2011)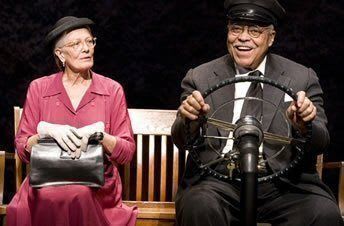 Having fallen head over heels in love with this production only a few hours after a nightmare 22 hour door-to-door journey to a frozen New York last Christmas, the impact of the London transfer was going to be interesting. Pleasingly, fully awake, it is a joy and anyone able to get a ticket should jump at the opportunity.
Many Londoners will know Alfred Uhry's storyline from the movie starring Jessica Tandy in the title role with Morgan Freeman as the black chauffeur who symbolically progresses from irritant to best friend across two decades.
David Esbjornson has been lucky enough to attract three tremendous actors, two of them acknowledged giants of the contemporary acting profession.
The tale, set in Atlanta Georgia starting in 1948, is ultimately a slow burning, old fashioned love story, though it seems anything but at the outset.
It starts as 72-year-old Daisy Werthan, an aristocratic Jewess given amazing humanity by Vanessa Redgrave, crashes her car once too often. Her devoted, if frustrated son, Boyd Gaines' Boolie, bans her from driving and seeks a "colored" driver.
Somehow, he lands the washed-up, 60-something Hoke Coleburn, played by James Earl Jones. While clearly good at his job, the dignified old man turns out to be something more, an exemplar of old-fashioned loyalty and dedication.
Initially, Miss Daisy resists, refusing to enter her new car (simply represented by a chair, a bench and a steering column all on a revolve) for almost the time it took the Good Lord to make the world.
Very slowly, she thaws and by the end of the play after almost quarter of a century together is undoubtedly closer to her best friend than she would ever have been to her husband.
Along the way there are many lovely touches, to name one from either party, the retired schoolmarm helps her illiterate employee to enrich his life by reading, while he in return bravely brings her coffee and a paper through snow similar to that which delayed my arrival in New York.
While this is ostensibly a small-scale story of two unexceptional people, Alfred Uhry brings in external events, in doing so, reminding us about changing attitudes to race and religion in the Deep South during this tricky period.
Driving Miss Daisy is a fine play and would be worth the price of a West End ticket with any competent trio of actors.
This production goes way further. In the early scenes, James Earl Jones looks like grabbing all of the acting plaudits because Hoke gets the best moves and lines.
As the 90 minutes develop, Miss Redgrave comes into her own, conveying awkward bloody-mindedness and then, later, the pleasures of friendship and frustrations of those who have continued on beyond the useful lives of their bodies.
This is a unique opportunity to watch acting that cannot be surpassed in a play that may be a touch sentimental but warms the heart. While it is usually a relief to duck the pain of giving shows star ratings, when a real 5* treat comes along it can feel like deprivation. This is one of those occasions.
Visit our sponsor 1st 4 London Theatre to book tickets for Driving Miss Daisy
Reviewer: Philip Fisher