The Drowsy Chaperone
Music and lyrics by Lisa Lambert and Greg Morrison, Book by Bob Martin and Don McKellar
Novello Theatre
(2007)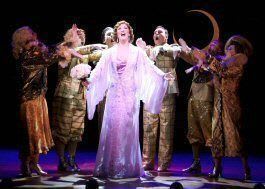 The Drowsy Chaperone has the aura of an amateurish variety show but this hides high professionalism in a show that has deservedly become a smash hit on Broadway.
The London transfer is headlined by Elaine Page in the title role but, like her character, she struggles to compete with the sensational Summer Strallen, who should be garlanded for her performance as an actress who wants to settle down in a happy marriage.
This all follows from a charmingly kooky opening in complete darkness, during which co-writer Bob Martin, playing a neurotic geek merely called Man in Chair, starts off with the unpromising "I hate theatre" before modifying this to say, "I just want to be entertained - isn't that the point?" Pleasingly, his show does just that.
The lights then come up on David Gallo's re-creation of a packed basement studio apartment. There the kooky narrator attempts a bit of escapism by putting on a record of a long forgotten 1928 musical.
Suddenly, the room is invaded by pieces of set and musical performers, many of whom enter through the fridge.
We are now in the deliberately clichéd fantasy world of The Drowsy Chaperone, a screwball comedy that gently pokes fun at the romantic musical genre of the Jazz era.
The story contains few surprises, with the centrepiece an impending wedding between Janet Van De Graaff (Miss Strallen) and John Partridge, playing a handsome matinee idol called Robert Martin (spot the coincidence).
The path of true love never runs smoothly in romcoms and is hardly helped on this occasion by The Drowsy Chaperone. Miss Page has great fun playing her as a prohibition era drunk who, instead of protecting the bride from bad luck and bad influences, almost sinks the wedding as quickly as her umpteenth vodka.
The actress is best in the comic scenes, where she plays a cross between Dorothy Parker and Mae West but her singing, particularly at the end of As We Stumble Along, should enchant her many fans.
She is unlucky that this follows on immediately from Summer Strallen's tour de force in Show Off. She sings beautifully in different keys, looks gorgeous and presents a stream of gymnastic dance moves, some of which look physically impossible and eventually leave her breathlessly beaming.
Casey Nicolaw, who is probably best known for his choreography on Spamalot, both directs and choreographs the show, working hard to provide as varied an evening as an hour and three-quarters will permit.
There are many different dance and musical styles from tap, accompanying Cold Feets, to big musical numbers featuring a whole cast, including at the end our intrusive narrator, in particular Toledo Surprise.
The overwhelming tenor of The Drowsy Chaperone is good natured but often extremely funny comedy with the writers never too concerned about originality where a laugh can be derived from much-loved situations and puns.
Therefore, expect a greasy foreigner failing to compromise the bride but ending up married to her chaperone, and even the bullet-headed producer and his gangster pals are happy by the end.
The Drowsy Chaperone may not be to everybody's taste but it should have a long and successful London run and really ought to win some awards for at least one of its female stars.
Visit our sponsor 1st 4 London Theatre to book tickets for The Drowsy Chaperone.
Reviewer: Philip Fisher