Ducktastic
Hamish McColl and Sean Foley
Albery Theatre
(2005)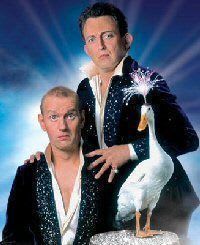 The Right Size, Hamish McColl and Sean Foley, have moved from their roots in anarchic comedy to a genre advertised as "A New Comedy Spectacular".
Following the tremendous success of their last show, the Morecambe and Wise tribute, The Play What I Wrote, they have kept to a formula that should guarantee commercial success.
The opening curtain rises accompanied by a pretentious Al Pacino voiceover to reveal a spangly McColl in front of a spectacularly glittery image of the solar system.
The plot is minimal as corny, and often smutty, jokes abound and the boys create a show imitating a Siegfried and Roy Las Vegas extravaganza. In fact, it is often closer to another Morecambe and Wise or Tommy Cooper Christmas special with added top notch magic tricks.
Audience members are sucked on stage at a rate of knots including lucky usherette, Tina (Alex Kelly) who yearns for her 15 minutes of fame. She gets it twice over, first being split in two and then revealing a powerful voice in the finale.
The added element this time is a multiple crew of highly-trained ducks jointly playing Daphne. She is a speaking fairy duckmother with the ability to make dreams come true, healing marriages and making bystanders into superstars.
The two writers are also the stars, revealing acting and physical talent as well as delivering a handful of boppy show songs, the last being the catchy and not easily forgettable Duck Knows. That is accompanied by a mini Busby Berkeley routine which ensures that fans leave the theatre happy.
Like his writers, director Kenneth Branagh has an eye for the startling moment, never more so than in some of the magic illusions during which people (and ducks) appear and disappear with remarkable regularity.
Ducktastic is a lot of fun and makes those who like this kind of show almost sick with laughter. It lacks any serious dramatic depth but that is not its purpose.
Visit our sponsor 1st 4 London Theatre to book tickets for Ducktastic.
Reviewer: Philip Fisher