Dumb Show
Joe Penhall
Royal Court Theatre Downstairs
(2004)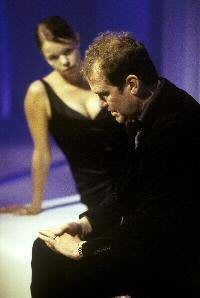 Like Joe Penhall's National Theatre multi-award-winning masterpiece, Blue/Orange, his latest play, Dumb Show is a psychological three-hander that focuses on the inner turmoil of its central character. Following the sentiments of the Smokey Robinson song, it shows us The Tears of a Clown.
Douglas Hodge gives an excellent performance as Barry, a TV comic whose out of control, hedonistic lifestyle is surely based on that of Michael Barrymore.
The play opens in Es Devlin's gorgeous, ultra-modern hotel room, all angles and Perspex, the latter surely symbolising the see-through world of a TV celebrity. Barry has been invited there by John and Jane, apparently top-notch private bankers.
They both live up to the worst reputation of that creed, as Rupert Graves' John out-jokes his guest, while Anna Maxwell Martin as Jane is like a piece of meat thrown to the roaring media lion.
Under Terry Johnson's direction, the laughs come thick and fast at the beginning as he insists that his actors speak incredibly quickly, interrupt each other with Pinteresque realism and, in Barry's case, struggle to finish sentences.
Things are not what they seem. John and Jane are really journalists, Greg and Liz. They are keen to make the telling point that they are not from the gutter press but presumably rather more akin to news hounds on a Sunday Times investigative team.
Poor, drunken, coked-up Barry does not know where he is or what he is doing. He cannot understand that Liz, a combination of temptation and resistance in her tiny black dresses, is no longer there for his amusement, nor that the joke is over.
The ruthless pair soon take it in turns to be good cop/bad cop. Despite the fact that Barry knows that "I'm well documented", he in turn moves through disbelieving, belligerent and then finally confessional, seemingly not really aware of what he is doing.
Hodge carries all of this off with an annoying Estuary English accent and the false bonhomie of a real pro. Neither of the other characters is consistently written and they seem to be there more to bring out Barry's inconsistencies than to cover up their own.
Greg is appropriately nasty until a twist in the plot brings out real sympathy for Barry that seems meant for the audience. However, the journalist grabs hold of it to show that he is really not all that bad, after all.
Despite Miss Maxwell Martin's performance, as the variously seductive, embarrassed and heartless Liz, the young journalist's vacillations between good and bad eventually feel too much like a roller-coaster ride.
Dumb Show is at its best both when showing the horrendous Barry in his pomp at the beginning and then when he bares his humanity towards the end of its 90 minutes. In between, there is too much authorial manipulation for it to be entirely believable. That should not detract from a wonderful performance from Douglas Hodge.
Reviewer: Philip Fisher