The Dumb Waiter
Harold Pinter
Trafalgar Studios 1
(2007)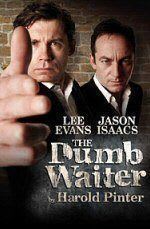 Harold Pinter is everywhere at the moment and the public loves him, judging by the raucous standing ovation accorded by a glittery audience when he rose at the end of the opening performance of The Dumb Waiter.
After his acting success in Krapp's Last Tape late in 2006, this is the second of three shows based on his work appearing in early 2007, following the unfortunate Pinter's People.
It doesn't stop there, as More 4 is lauding him on 26th February with a film version of Celebration accompanying an in-depth interview conducted by the director of this revival, Harry Burton.
The Dumb Waiter first appeared in Germany fifty years ago, prior to a London debut in 1960. It is a relatively slight, surreal comedy with only two characters and a running time of no more than an hour.
In this incarnation, the two men are billeted in a basement, designed by Peter McKintosh, that looks like a derelict public lavatory with cheap beds along the back wall seemingly putting their sleepers at risk from falling tiles.
The bearded Jason Isaacs leaves the Harry Potter films to become stern Ben, while Lee Evans, who had such a hit opposite Nathan Lane in The Producers, is the rather slow Gus.
This pair seem destined to wait alone, like Beckett's famous pair of Vladimir and Estragon, but for someone a little more tangible than Godot.
It takes time for their profession to become apparent and their characters to manifest themselves. Ben is a bullying control freak while, like a latter-day Stan Laurel, Gus is a hapless victim with slapstick tendencies, which is why Evans was cast.
After initial surreal discussions about eccentric news stories and the fortunes of Aston Villa, a pistol appears and we gradually discover that this is an eccentric pair of hitmen awaiting their instructions.
Rather than guidance though, the thunderous dumb waiter of the title brings food orders from around the world, adding irony as the pair cannot even make themselves a cup of tea, let alone unpronouncable Greek dishes or egg foo yung.
Just as it seems that this play is no more than an observation of the day to day activities of bickering hitmen, Pinter provides a knockout pay-off to send the audience home happy.
Harry Burton's production mixes off-beat comedy with something more sinister, as one has come to expect from Pinter. It also allows Lee Evans to clown quite effectively but whether there is enough here to persuade audiences to face the February cold for only an hour's entertainment remains to be seen.
Reviewer: Philip Fisher