Dust
Billy Goda
Westside Theatre, New York
(2009)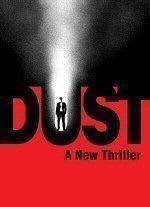 In Britain at least, the thriller has now largely migrated from the stage to film and TV. This can be a mixed blessing, as an evening watching Dust shows.
It is inevitable that there will be a degree of contrivance and characters who lack consistency. Even so, there are enough twists and comic moments to suggest that it should do good business. This owes much to some imaginative directing from the former Artistic Director of the Atlantic Theater Company, David Mamet specialist Scott Zigler, who does marvels with a script that could have done with a little more work.
The first few minutes set the scene, as a 6am gym session turns nasty. Martin Stone, a self-made businessman in his fifties, rudely tries to force the janitor, Zeke Catchman, to clean some dust off an air vent.
This introduces us to the main characters and the show's two big draws, Richard Masur (Stone) and Hunter Foster, both of whom have significant Broadway experience and, in the Masur's case, vast amounts of film and TV too.
Zeke finds himself unemployed and his revenge and its repercussions occupy the next 90 minutes.
Zeke, it transpires, has spent a year in Sing Sing for beating up a drug dealer but is now clean, thanks in part to Curtis McLarin's jolly probation officer.
His journey now involves an unlikely romance with Stone's troubled daughter Jenny, played by Laura E. Campbell, as well as regular bouts of fisticuffs, and periodic meetings with his nemesis.
Too much of Billy Goda's script is obviously designed to add novelty and the dialogue is uneven with some excellent parts contrasting with others that are far from original.
However, Dust looks good, thanks to designer Caleb Wertenbaker's use of an adaptable triptych, which is at its best in a dual scene where the two protagonists overlapping discussions, which is the high point of the production.
Goda maintains enough interest throughout to keep the audience on the edges of their seats, which is the purpose of thrillers of this type.
Reviewer: Philip Fisher