Dust
Milly Thomas
Soho Theatre
–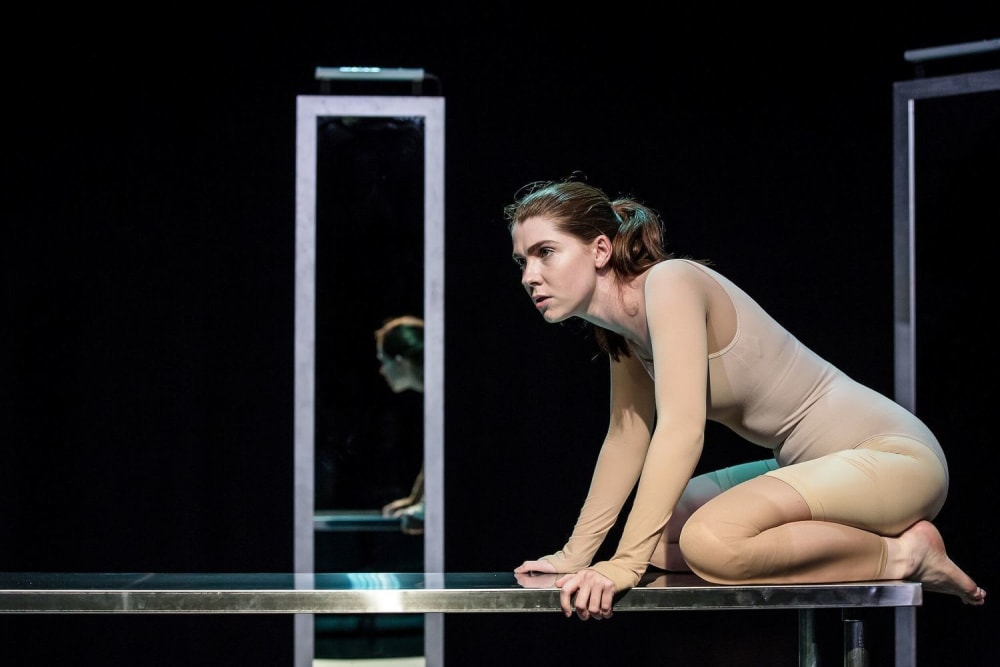 Intended to raise awareness about mental health, this brutally graphic one-woman show by Milly Thomas about waking up after suicide and haunting one's loved ones is as frustrating as its central character.
Thomas plays Alice, a young woman who finds herself observing her own corpse after an overdose. She attends her own funeral, and even the coitus of her loved ones. The staging is stark: a mortuary table in front of three mirrors. Thomas, dressed in a nude body suit, spends her time inspecting her body, wondering what her lovers saw, and tasted, in stark gynaecological detail. The tone is monotonously, angrily pornographic throughout. Sex is reduced to its basest biology. She weeps, contorts, and howls throughout the 70 minutes.
Thomas plays key figures in Alice's life, her best friend, mother, boyfriend, aunt. She adopts a mainly sullen tone for the men. These feel like caricatures. The source of her trauma, and the cause of her anger, is never identified. Thomas presents the ultimate decision as mysterious and irrational.
This may be true to the unfathomable pain of suicide, but it is hard to be emotionally engaged, not least because this is a show expressly about an angry, self-absorbed young woman, someone who is not mourned in the way she was expecting. Indeed, the show suggests that depression can be both solipsistic and, at least on the surface, selfish.
The premise had potential. There is plenty of comic mileage in Alice being as narcissistic in death as she was in life, and in her disappointment at her family's less than complimentary remarks. It could have been a blackly comic anti-Capra. The lighting, sound design and synth music intriguingly conjure a macabre 1980s disco. The table nicely doubles as a bed during the sex scenes.
It's a show whose frankness about female sexuality has been compared to Phoebe Waller Bridge's celebrated Fleabag. But unlike Fleabag's charm and wit, Dust bludgeons you with so much crudeness that the returns are diminished. And although Thomas has an impressive emotional range and intensity, it's undermined by the script's lack of focus.
The entirely noble intention of raising awareness of suicide prevention and talking about mental health jars with the uneven content. Depression has never felt so important, and at the same time so difficult, to turn into compelling drama.
Reviewer: Tim Fox