The Rivals
Richard Brinsley Sheridan
Bristol Old Vic / Heritage Theatre
Released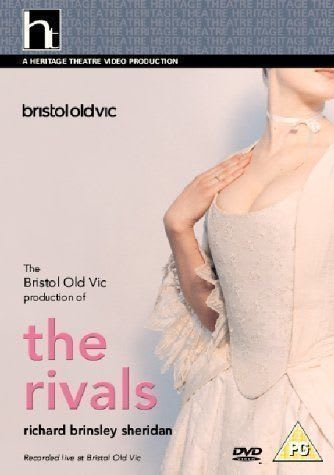 Rachel Kavanaugh's splendid revival of The Rivals at Bristol Old Vic is really is good justification as anyone could require of why top stage performances should be recorded for posterity.
All too often, DVD recordings give real pleasure at the first viewing but will gather dust forever after. Anybody that buys The Rivals is likely to find themselves tempted to watch it again and again.
The atmosphere is set by a combination of a Peter McKintosh's colourful costumes and his set, which transforms itself from Georgian houses in Bath into their interiors with great rapidity, and Terry Davies' incidental music, which is reminiscent of that of Michael Nyman.
The heart of the production, though, is in a wealth of excellent performances from a very strong ensemble cast.
Strongest of all is Selina Cadell, who could have been born to be the dizzy tongue-tied "old tough Aunt" Mrs Malaprop. She has problems with her own love-life not assisted by her maid, the financially astute Lucy. One of the strengths of the production is that Carli Morris as Lucy and Paul Reynolds in two different servant's parts are both as good as the leads.
The troubles that the poor lady suffers at the hands of her beautiful romantic niece, Lydia Languish (Anna Madeley, conveying a fairly convincing seventeen-year-old both wise and innocent), are numerous and far more vexing.
Miss Languish is wooed by almost all but her real problem is the man that she is in love with does not exist. Such are the ways of complicated love and the trickery of handsome Jack Absolute (Adam Rayner).
This pair is paralleled by Elisabeth Dermot-Walsh's Julia and Martin Hutson's rather loud but ultimately hilarious Faulkland, a frenetic, contrary, spitting man, accurately described by the director as having a Woody Allen-ness about him.
Throw in an Irishman, yokels and Absolute's pompous father Sir Anthony (David Burke) and there is a recipe for high comedy that hits home in almost every particular.
The recording of the live production as recently as June 2004 is accompanied by a short interview with the director. In this, she not only identifies the contemporary elements of the play but also shares with us her "tea for three" theory. This tells her actors that when they are speaking, they must not only address the person to whom they are speaking but also an invisible third person, representing the audience. A slightly unusual technique but a successful one, much needed with so many asides.
This could prove the perfect antidote to so many Hollywood blockbuster DVDs, eschewing violence and noise but mixing great humour and gentility with insights into the ways and deceptions of love.
Reviewer: Philip Fisher