tHe dYsFUnCKshOnalZ!
Mike Packer
Bush Theatre
(2007)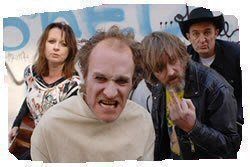 Punk is back. Only five days after Desperately Seeking Susan opened featuring the Blondie back catalogue, this homage to the art form shows the harder edged reality behind today's fond myth.
From the carefully transliterated reproduction of the title above, you might imagine that this affectionate homage to an era and more particularly The Sex Pistols should be called The Dyslexics. If you look more carefully, you discover a hidden message that nicely summarises the attitudes of a quartet who entertain and shock their audience for two and a quarter hours. This is not so much In Yer Face as Off Yer Head Theatre,
tHe dYsFUnCKshOnalZ is a fusion of drama and music that has many similarities to Adam Rapp's Finer Noble Gases, a gratuitously offensive drama that featured a live band and wowed the Edinburgh critics in 2006.
Like so many feelgood movies, it starts as the middle-aged members of a band meet up after decades apart in their own separate wildernesses. The reason for the get together is an American credit card company's desire to use one of their songs to sell its product, not spotting the far from subliminal anti-consumerism message in the lyrics.
Initially, the psychotic Johnny Rotten-clone lead singer, Billy Abortion, doesn't want to know. He has given up the material pleasures of life for his principles and a job stacking baked beans in the kind of capitalist establishment that he abhors.
Rupert Procter playing Abortion is a wonder, delivering the breathlessly draining first anti-capitalist diatribe of many at serious risk to his vocal chords and fully deserving an ovation when he completes it. He then proceeds to sing punk throughout the evening and will do well to make it to the end of the run with a voice.
The chances of re-forming are not helped by the lead singer's hatred for his sell-out colleague, Marc Faeces. Ralph Brown plays a man who lives down to his name and over the years has been through every genre in an effort to get rich and even appeared on TVs New Faeces!
He might be boring now but the other two members of the band each have attractions. The excellent Pearce Quigley's John Smith is a spaced out special brew tramp who cannot remember two decades of his life or finish a sentence but amuses as he tries. Girl guitarist, Lou Gash, poignantly played by Julia Ford, has history and a heart.
The initial battles dissolve inexplicably as Billy backs down but that allows us to discover that the actors are talented musicians as they perform songs composed by Mia Soteriou that owe their origins to the likes of The Sex Pistols, The Ruts and The Clash.
The sight of a re-formed punk group in their fifties may seem an oddity as most bands lost members to drugs or suicide long ago but this quartet give everything in a remarkable pastiche.
The music softens to something more like The Flying Lizards in a reunion concert to die for that is enlivened by the anti-American, anti-consumerist antics of the arch anarchist, Billy Abortion.
There is a post interval lull, as Mike Packer brings some personal histories into the play, together with dialectical debate that shows the human side of a group of people like any other once the noisy facade is stripped away.
Infamy pays and, by the final concert, the band prove that anarcho-punk values could have as much relevance in the age of New Labour as Old.
tHe dYsFUnCKshOnalZ is a marvellous and extremely funny satire on a musical genre but also much more. It parallels the emptiness of life today with that of a generation before and in addition portrays ageing used-to-bes who have tasted fame and desperately want a second fifteen minutes before they die, whatever the cost.
This isn't a perfect play with inconsistent motivations and too many ideas and targets slowing the flow. You can forgive the flaws and inconsistencies thanks to the remarkable energy generated under Tamara Harvey's sure direction; Lucy Osborne's Sex Pistols-influenced set that takes over the whole theatre; and a talented and brave team of actor-musicians who play brilliantly and get every laugh out of the script, not to mention a tear or two.
If you are young, in reality or at heart, do not miss this enthralling ride through the spirit of a generation. If you prefer muzak to the real thing, stay at home and enjoy I'm a Celebrity. Who knows? You might even see an episode featuring Billy Abortion.
Reviewer: Philip Fisher