Dystopian Dream
Direction & choreography Wang Ramirez, original concept, co-deviser & album composer Nitin Sawhney
Sadler's Wells
–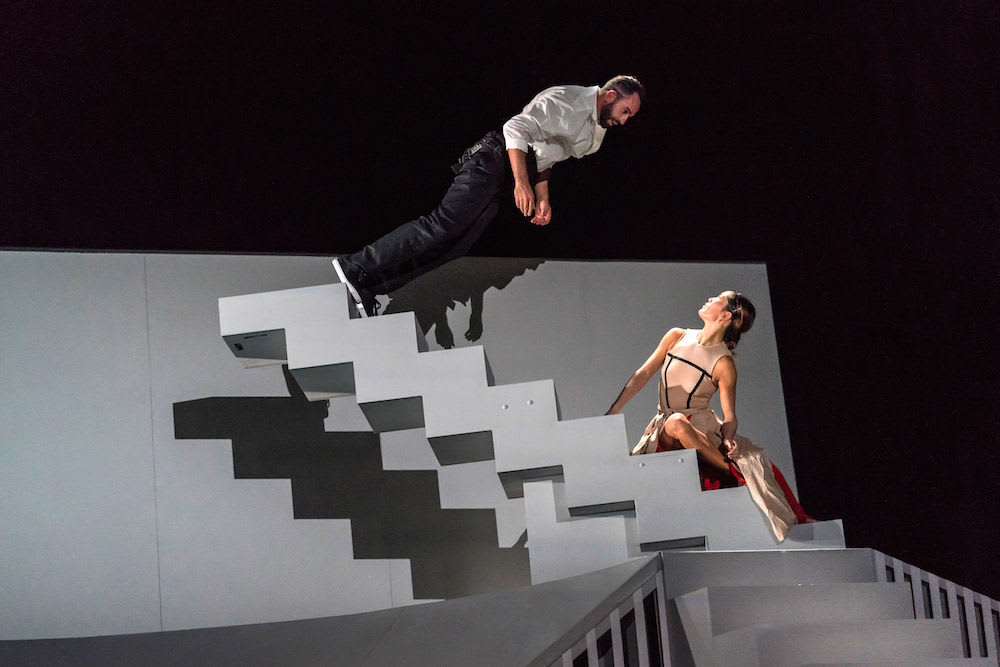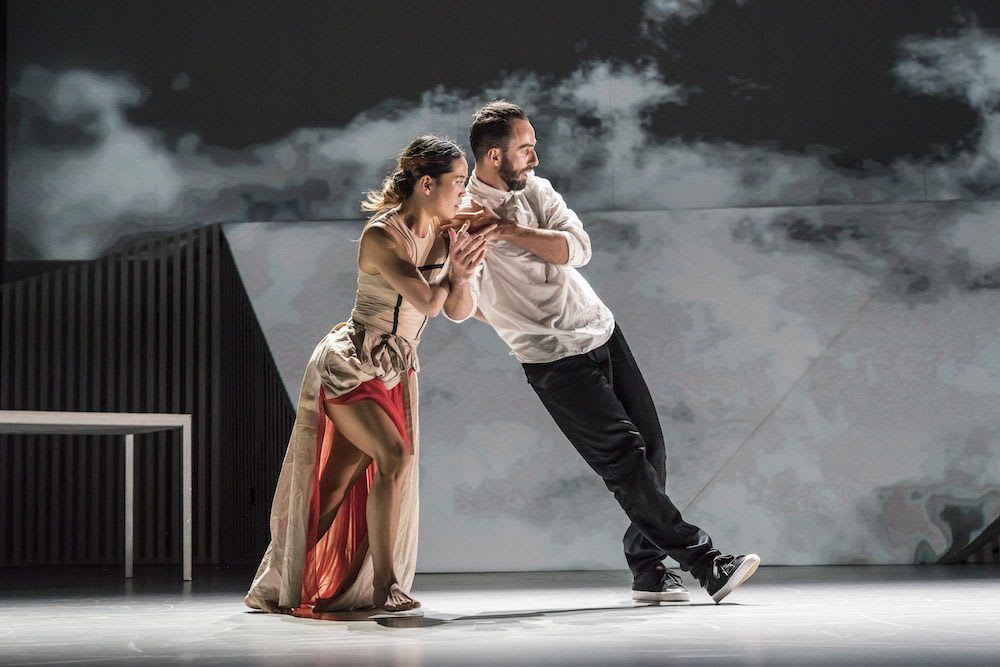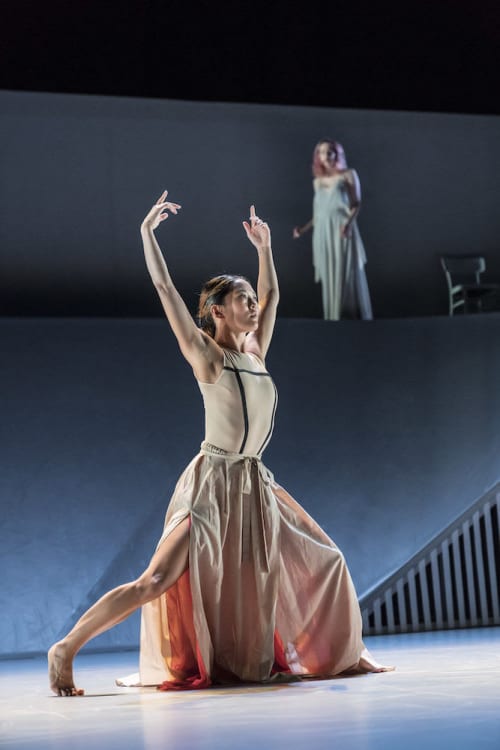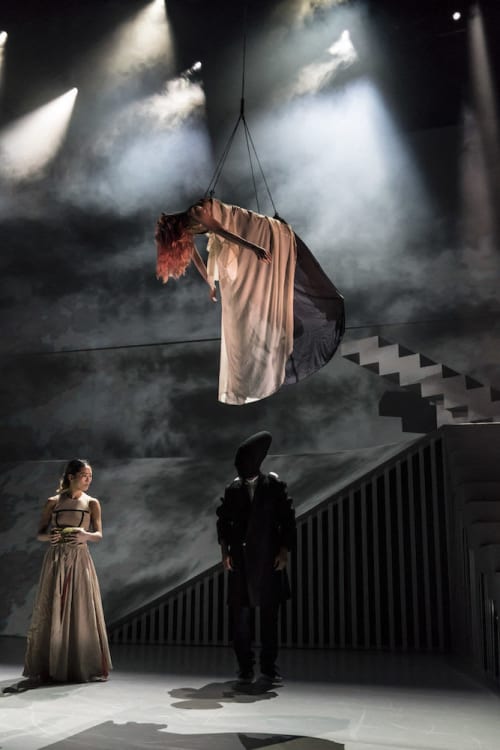 A staged music video, Dystopian Dream has a dream of a creative team: Nitin Sawhney's eponymous album is supported by choreography and performance from co-devisers break dance / contemporary crossover dance duo Honji Wang and Sébastien Ramirez, singer Eva Stone, costumes from Hussein Chalayan, a Piranesian staircase set by Shizuka Hariu, animated video projections by Nick Hillel and dramatic lighting by Natasha Chivers.
Sawhney's fifteen tracks are explored and interpreted in a surreal Buñuel / Cocteau dream scenario: for his fans, I imagine, this is a seventy-five minute dream come true. Written in 2015 as a response to his father's death, Dystopian Dream is a meditation on mortality, on loss, on loneliness, on space and time, on confusing reality and even more confusing dreams.
Eva Stone, in Grecian dress, sings to recorded tracks as she is hoisted aloft on wires, a puppet on a string; there's aerial flight from the dancers and a 'Zaha Hadid' sloping roof for sliding; a two-tier set that suggests heaven and hell's mutability, the matter of life and death an eternal preoccupation. Wang tiptoes about with a mysterious gilt casket—is it Pandora's box?
Ramirez is a dual character: in his black coat and bullet-shaped black face-obscuring headdress he is straight out of an art-house horror film. Shed of them, he is Wang's dance partner and adversary.
It's not clear who this doppelgänger is, but then nightmare dreamscapes never are. Is he the lover come back in Stone's wishful dream? Everything is possible. The focus keeps changing. And clichés abound. "I'll keep my door open so you can come back to me."
"I'm gonna haunt you when I'm gone, I'm gonna haunt your dreams". Is he a ghost or death stalking, caressing Stone as she wanders about her upturned home, washing in a bucket? The loss of a loved one is destabilizing and disorientating. Is she dead? Is he Dr Frankenstein or Dr Coppélius working on his creation? Are they all three squabbling enfants terribles?
Underworld and a topsy-turvy world out of kilter, time and spatial perspective out of joint, each track is given literal visualization: a black morass washes over the set, black metal filings cluster and turn into feathery wings, into birds (Hitchcock?).
Allusive visuals, tessellated cracks and fissures, held together by choreography that tries to take wing but stays earthbound. White slabs of ice (Rachel Whiteread?) break and split: Ramirez jumps from one to another to stay afloat, clouds drift, mist fills the stage: grief does feel like drowning, one's brain full of fog.
Cinematic, enigmatic, this multimedia show, which had its world première September 2017 at the Théâtre de la Ville de Luxembourg, is a work of love and sincerity, but I was not swept away by it.
Ramirez's break dancing is gentle, Wang's insectoid presence much more arresting, their solos and duets pleasant enough, their signature styles very watchable. As concepts go, portals between this world and the next have been done to death and will continue to be. Roland Petit's 1946 Le jeune homme et la mort ballet… Orpheus… Plus ça change…
Production values high, is Dystopian Dream taking a leaf from Florian Zeller's The Height of the Storm? Stone's lifeless body is lifted high in a striking closing image—is she the grieving one or the dead, or is she both? Have we been misled? Are they all spectres? "Such stuff as dreams are made on"?
Reviewer: Vera Liber