Early Adventures: Spitfire / Town and Country / The Infernal Galop
Matthew Bourne
New Adventures
Sadler's Wells
–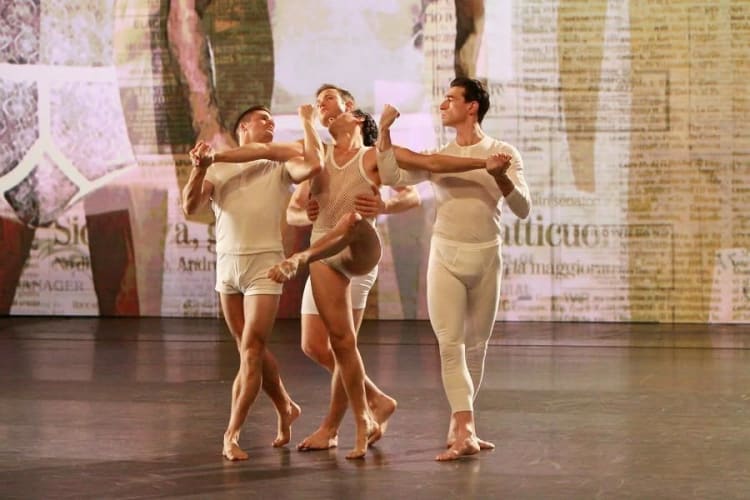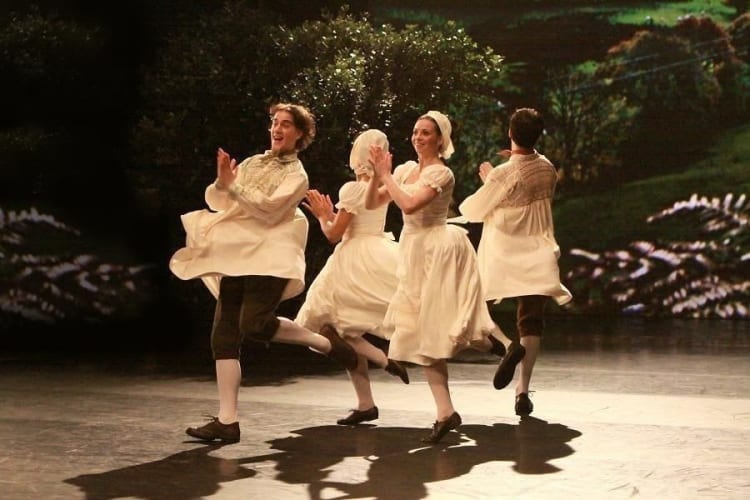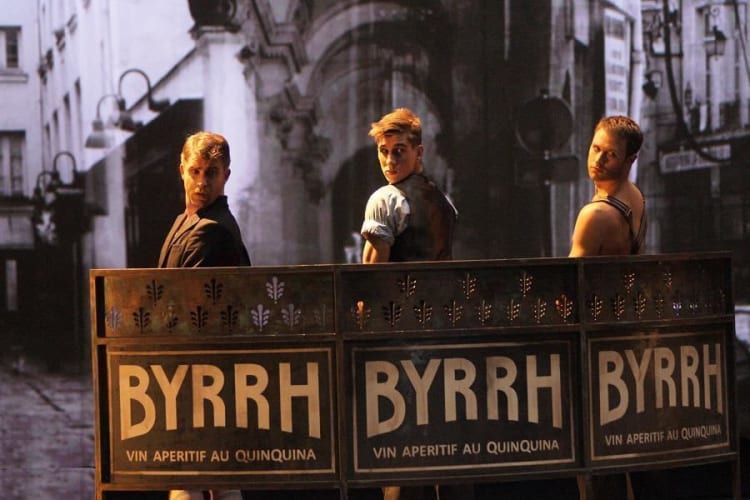 Matthew Bourne infiltrates consciousness—memory of his 1994 'romantic wee ballet' Highland Fling version of La Sylphide popped sacrilegiously into mind at the Royal Opera House two days ago. He subverts with stealthy zeal.
As he celebrates New Adventures' 25th anniversary (how time flies), we have good cause to join him: for his affectionate reworking and sending-up of classical ballet repertoire, for his nostalgia for his parents' era, his astute and eclectic choice of music, and for doing it with wit and a particular English boyish joie de vivre and star-struck panache.
A dance and musical revue, defined by the forties cinema foyer set with plush red curtains behind which vistas from long ago take us back to the magic of going to the cinema, theatre, and listening to the wireless.
A generous dollop of three early works (re-staged by Etta Murfitt)—though with an interval breaking up Town & Country it felt like four—that set his style and launched his career, crests on good humour, goodwill, evocative and emotive music, and the creative talents of all involved in this revival: Lez Brotherston (snappy set and costume designs), Paul Groothius (sound design), and Andrew Murrell (lighting). And, of course, his winsome performers, who get to play on children's scooters… and much more, from the whimsical to the downright horny.
Music ranges from Minkus and Glazunov to Percy Grainger, Elgar, and Noel Coward, from Rachmaninov to Charles Trenet, Edith Piaf and Offenbach. And it is the choice of music that is the tingling spine of the evening: at times there is more dramatic effect from the music than the knowing winks and nods of the choreography.
Spitfire, 'An advertisement divertissement', Bourne's first hit in 1988, has four preening underwear male models undertake 19th century classical ballet 'turns'. They not only try on naughty but nice ballet moves for size, but also seem to embody (or mock) the British indomitable war hero spirit of the lion and the unicorn in their heroic poses. Ingenious, camp, hilarious, and beautifully executed—excellent fish dive from Christopher Marney.
Town and Country ('Lie Back and Think of England') from 1991 shows two halves of an idealized England: the sophisticated worlds of Oscar Wilde, Noel Coward, and the elegiac of Edward Elgar (Pomp and Circumstance is played by a lackey on a ukelele), Eric Coates, and Percy Grainger.
Town, an ironic lingering loving take on a Terence Rattiganesque privileged world of servants, upper class manners, stiff upper lips, double entendres, and a very brief Brief Encounter, which posits a happy ending for one of the two identical couples dancing to Rachmaninov's score. All is possible in a re-imagining.
A picture book Country with its Frederick Ashton bucolic Suffolk scenery, farmyard animals (avian moves foreshadow an embryonic Swan Lake), horsey types and yokels, a clog dance that is not a patch on Ashton's Widow Simone's, and puppet forest creatures (including a solemn hedgehog funeral), is a hoot, but over-indulgent and the mind wanders.
The Infernal Galop, inspired in 1989 by French chansons of the 30s and 40s, and seen through a clichéd English lens, has a droll cinematic Parisian black and white backcloth, and a prominent pissoir… he is taking the peess, non? Jazz, a fashion catwalk, matelots, Trenet's La mer, a merman in grey silk dressing gown, a low-key cancan, and love for sale.
A hardcore underworld of cottaging, fellatio, and constant 'somdomite' coitus interruptus from wandering French minstrels in striped tops and berets bursting in on the scene with jolly accordion songs, but Edith Piaf's L'hymne à l'amour has more drama than even Bourne can handle.
If there were no Matthew Bourne, I think we would have to invent him, for he brings much pleasure and light entertainment to many. But beyond the light entertainment lurks a serious artist with darker depths (a Samuel Palmer moonlight scene a necessary balance to the idyllic Country sweetness): his stagecraft, fine-tuned observations, and attention to detail are remarkable. Long may he reign!
A national touring programme till the end of June can be found on the New Adventures web site. We are going to be seeing a lot of Bourne's work this year as celebrations continue: Play Without Words is having an outing for four weeks at Sadler's Wells, and he brings his new 'Gothic Romance' Sleeping Beauty to the venue over the Christmas period.
Reviewer: Vera Liber