Early One Morning
Les Smith
Octagon Theatre Bolton
Octagon Theatre, Bolton
–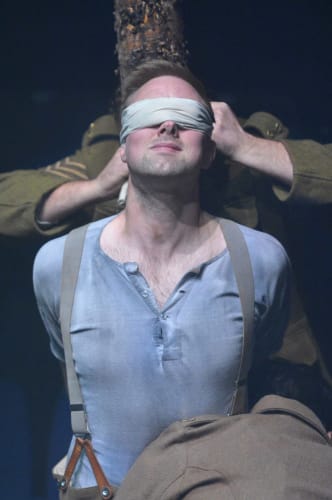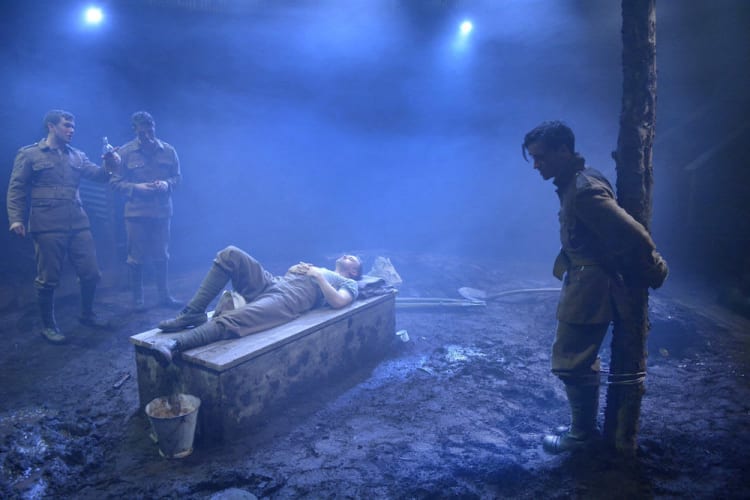 Another of the Octagon's linked play duos, in which two consecutive plays share mostly the same cast, is also the Bolton theatre's contribution to the World War I commemorations and part of its commitment to local writers and local stories.
Private James Smith was a soldier from Bolton who was shot for desertion in 1917 in France after having had, prior to this, an impressive service record. This play was written by local writer Les Smith in 1998 to commemorate the 80th anniversary of the end of the war, and is now revived by artistic director David Thacker.
The play opens with the Court Martial in which Smith is convicted of desertion for the third time, but Private Smith declines to speak at all. Writer Smith fabricates a debate between officers about the issues by having one argue to have him sent home due to his previous record, but the final sentence is death.
Lying in his cell, awaiting news of his fate, Smith flashes back to when he was last sent home severely injured after being buried alive. He begins courting the nurse who looked after him, Lizzie Cartwright, but then was passed fit to be sent back to the front.
Sergeant Fielding brings together the soldiers who will have to escort Smith to his place of execution and bury him afterwards, who are reluctant despite being bribed by ten days' leave. Meanwhile, Smith hallucinates Lizzie coming to him in his cell, ragged and bloodied from her journey to the battlefield. This conversation doesn't appear to add anything to the story, and the attempts at poetic lyricism clash with the naturalistic delivery of the dialogue.
The second act is mostly the night spent in Smith's cell between the condemned man and his two colleagues tasked to guard him before his execution at dawn. This is the most successful section of the play, even though it is probably the most speculative, as it focuses on the real emotions between the three men and exposes all of their fears.
The ending is a little disappointing and run-of-the-mill, and it cops out of telling the real story of the horrific farce that occurred just after the guns were fired. There is a lot of emotion being expressed on stage—even the narrator is tearful—but despite (or perhaps because of) this, the emotional impact on the audience is nothing like what it could be.
The play was originally part of a campaign to get Smith and others like him as recognised as war heroes as others who perished in that war. Smith's name was added to the Roll of Honour at Bolton Town Hall in 2009. Now, it is a story that we have heard many times before, albeit one with a strong local connection—and the casual listing of local street names and pubs helps to sell it to a local audience.
James Cotterill's excellent Journey's End set is adapted on stage level to turn the officers' dugout into a pit of mud, with the hard bed of Smith's cell right in the centre. For much of the play, he is lying on the bed with the action happening around him, even when he is not part of it, which works very well.
There are strong performances all round from Michael Shelford as Smith, Colin Connor as Sergeant Fielding and the narrator, Ciaran Kellgren as frightened new recruit from Liverpool Webster, John Branwell as the Major and Chaplain and James Dutton and Tristan Brooke as other soldiers. Jessica Baglow is the newcomer into this cast—there were no female roles in Journey's End—with a very impressive performance as Lizzie.
This is a play with some strong scenes and an important local link and the production as a whole is highly accomplished, but overall it isn't as powerful or emotional as other plays that tell a similar, now familiar story.
Reviewer: David Chadderton