Earwig
Laura Crow
Time & Again
The Empty Space (formerly Footlights House), Salford
–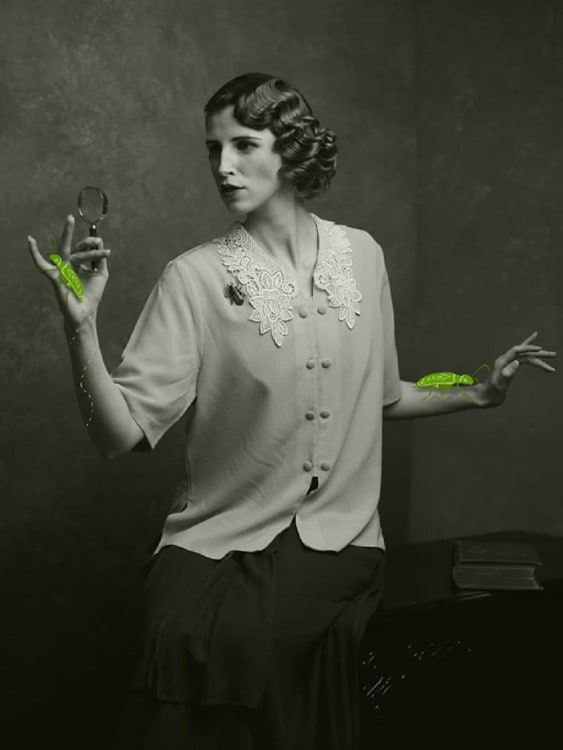 Although Time & Again has presented two Shakespeare productions at the GM Fringe, their stock-in-trade is factually based dramas intended to raise awareness of a particular social issue.
Such plays tend to err on the side of education rather than entertainment, being worthy but a bit dull, and indeed, the company's web site has been regularly updated with facts about the period and subjects covered by the play. Yet the tone of Earwig, written by Laura Crow, is refreshingly irreverent. This is a play that takes the facts, but not itself, seriously.
In 1927, Marigold Webb (author Laura Crow) is excluded from any conversation that is not directed right at her face due to childhood meningitis which damaged her hearing. Her restlessly intellectual late father helped Marigold learn sign language, contrary to the conventions of the period, and she has developed a strong interest in entomology. She jokingly explains her hearing loss using the old wives' tale that the damage was caused by an earwig.
An unhappy marriage with a dominating husband Nicholas Webb (Ben Hynes) limits any chance of progressing in her vocation, but a meeting with Bryony Varden (Jessica Ayres), a jazz-loving inventor, has unexpected consequences.
As one might expect, Crow's script includes factual details about the specific subjects of beetles (almost all of which are deaf) and societal attitudes to deaf people and the limited options open to women in the early 20th century. The major theme of domestic abuse lies in the background and is revealed gradually. Marigold's condescending and controlling husband uses psychological rather than physical abuse, limiting her access to the world outside their home and refusing to hand over any of her correspondence. Of course, in the best traditions of melodrama, he has a hidden motive.
The difficulties experienced by Marigold in following conversations are illustrated by white noise obscuring details and, in a fine touch, she turns the tables, delivering an entire speech in sign language without surtitles. Marigold is even subject to exploitation by her friends—Bryony regarding her initially as a guinea pig for one of her experimental devices.
Co-directors Catherine Cowdrey and Samantha Vaughan take inspiration from the silent movies of the period for a fast-paced, breathless atmosphere. Although Marigold's experiences are treated seriously, surrounding events are exaggerated with an 'anything goes' attitude. Captions on a screen to the rear of the stage are used not, as expected, to provide surtitles for dialogue communicated in sign language but rather to make sarcastic comments about the characters and audience. During a conversation in a library, the typeface of the captions shrinks to suggest whispering. A plan of action is formulated with the characters dancing along to "Puttin' on the Ritz" and a version of "Crazy in Love" is played in jazz / scat style.
Impudent but informative, Earwig is a startlingly effective way of communicating factual information in an entertaining manner.
Earwig will transfer to the Edinburgh Fringe at Assembly, Front Room, 14:10, 4–27 August 2022.
Reviewer: David Cunningham