East is East
Ayub Khan Din
Jamie Lloyd Productions
Opera House, Manchester
–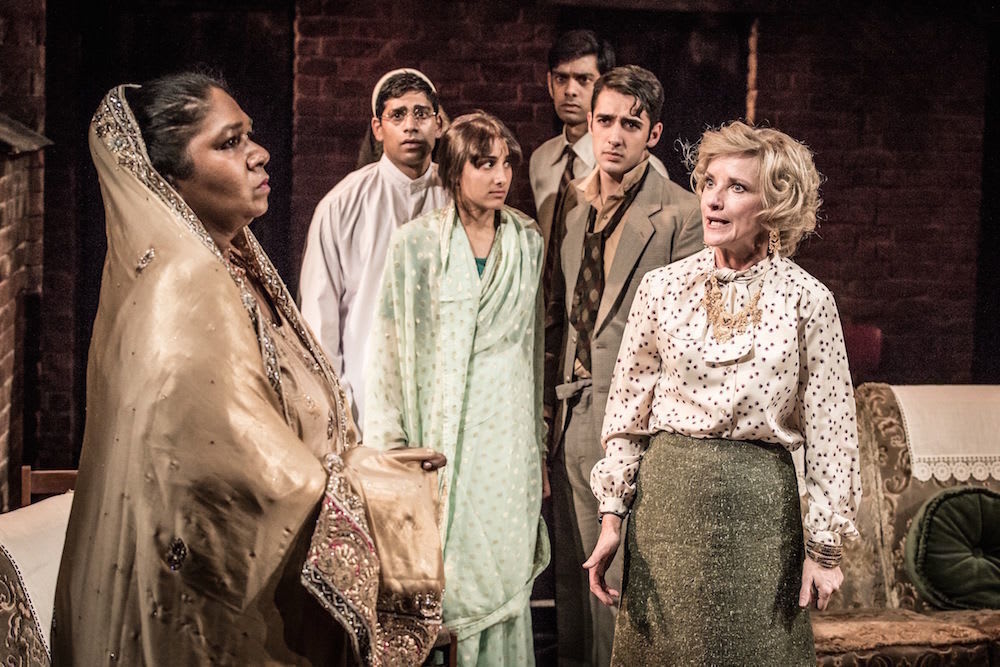 In this revival of Ayub Khan Din's semi-autobiographical play about growing up in a mixed-race family in Salford in the 1970s, the playwright plays the character based on his own father, with Jane Horrocks as his wife.
It is set in the Khan family household, with Muslim father George, white mother Ella and their seven children who all help to run the family chip shop—although George spends most of his time checking on the conflict between Pakistan and India in the news.
George tries to be a strict Muslim father, but his English children rebel behind his back. The conflict comes to a head when father arranges for two of his sons to be married without their consent to the daughters of Mr and Mrs Shah, whose appearance we can only judge through the reactions of those who see their framed portraits in a hilarious meeting between prospective in-laws.
There are issues of racial prejudice, clashes of cultures and generations and even domestic violence in this play, but it is told with so much warmth and humour that it never feels issue-laden or worthy. Quite the opposite; it's a great piece of entertainment with lots of very funny moments.
Sam Yates's production moves slickly on Tom Scutt's rather odd set which surrounds scenes set indoors with outdoor walls and back entry doors, rather like the old opening credits to Coronation Street. There are a few awkwardly staged scenes with action set in another room barely visible behind the main scene. Changes between scenes are slickly performed by cast choreographed to music by Alex Baranowski.
The cast, although over-projecting their voices a bit on the first night at the Opera House ("a bit shouty" as someone put it to me), are all very well-suited to their parts.
The playwright, as you might expect, gives a believable portrait of a very proud man who only rarely shows flashes of emotion but is always acting for the best, as he sees it. Horrocks gives a perfect supporting performance of great subtlety and detail with excellent comic timing.
As white Auntie Annie, Sally Bankes gives a superb comic performance, just as she did in That Day We Sang at the Royal Exchange last Christmas. Amit Shah does a good job of keeping the peace in the family as Abdul, Johndeep More is young Sajit who won't ever take off his parker coat, Taj Atwal is the only daughter, independent-minded young Meenah, and Nathan Clarke, Ashley Kumar and Darren Kuppan complete the family that we see as Saleem, Tariq and Maneer.
There are also some nice cameos from Rani Moorthy as outraged Mrs Shah and Hassani Shapi as bewildered Mr Shah and the doctor.
It's a very good production of a lovely play about families, cultures and clashes between parents and children that works as well now as it did nearly twenty years ago.
Reviewer: David Chadderton