That Day We Sang
Victoria Wood
Royal Exchange Theatre
Royal Exchange Theatre, Manchester
–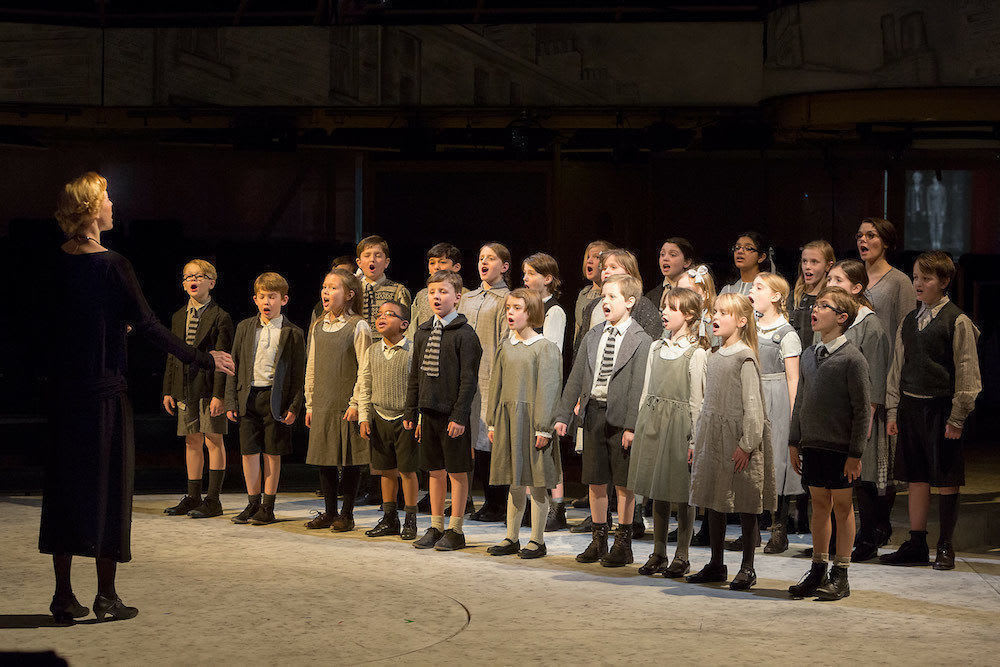 Victoria Wood's contribution to the 2011 Manchester International Festival is revived for the festive season in a completely new production by the Royal Exchange, directed by artistic director Sarah Frankcom.
Based on a half-remembered documentary from the 1970s, Wood tells the story of a children's choir that sang with Manchester's Hallé Orchestra in 1929 at the Free Trade Hall, the Hallé's home until it moved to the Bridgewater Hall in 1996, and then was invited to record Purcell's Nymphs and Shepherds. This 78RPM record went on to sell a million copies, even though most of those singing on it didn't possess the equipment on which to play it.
Wood sets her play partly in 1929 and partly during the recording of a local news piece looking back on the event forty years later that reunites four of the children: now-married couple Dorothy and Frank Brierley plus unmarried Tubby Baker and Enid Sutcliffe. While the earlier scenes are based around real events with some elaboration, the 1969 scenes are entirely fictional, and are where the style with which we tend to associate Wood really shines through.
The Brierleys are the kind of superior, aspirant middle class characters familiar from Abigail's Party and early Ayckbourn but with Wood's distinctive and very funny dialogue, laced with product names of the period (there's a whole song and dance routine based on the Berni Inn) and hilarious arguments over trivia—such as the difference between "snacks" and "nibbles" on an invitation. The unmarried pair—Tubby has always lived with his single mother until her recent death and Enid has been having a "secret" affair with a married man for years—are clearly being set up for a middle-aged rom-com, which follows the expected pattern.
Tubby is the link between the two eras as he engages and sings with his younger self, perhaps nostalgic for the past or perhaps wanting to change some of the events—it isn't really clear. In 1929, we have the well-meaning female choir leader Gertrude Riall countered by the stricter male teacher, Mr Kirkby, who believes many of the children to be worthless until he has an epiphany (as in Willy Russell's Our Day Out).
It's still a rather disjointed jumble of stories and styles, albeit quite an enjoyable one. The old and young Tubby don't really link the two eras in any profound or significant way other than to give the former a sad air of nostalgia. It isn't even clear for quite a while that this is to be a musical as there are no narrative songs until quite a way into the piece.
Most of the songs have a modern musical theatre style, except "If Life Were Movies", which sounds like an attempt at a Jerry Herman number, and Enid's solo number about her name, which is a typical Victoria Wood comic list song and by far the most memorable in the show.
Anna Francolini gives a beautifully nuanced performance as Enid, with a singing voice that sounds like an exact copy of Wood's, with a lovely performance opposite her from Dean Andrews as Tubby. There was also an extremely impressive performance on press night, easily as good as those of any of the adult performers, from William Haresceugh as young Tubby (or Jimmy—he only became Tubby, and tubby, later). This part is shared by three young actors.
Sally Bankes and James Quinn make a great double act, perfectly portraying the Victoria Wood characterisations and humour, both as the Brierley's and as Enid's boss and work colleague. Nice performances also from Kelly Price as Getrude Riall, Laura Medforth as Jimmy's mum, Craige Els as Mr Kirkby and Darren Lawrence as Jimmy's estranged father and Hallé conductor Sir Hamilton Harty.
There's nothing deep or profound about this piece—David Ward's article in the programme about a real reunion in 1989 is actually more moving—but as a piece of adult Christmas entertainment it pushes all the right buttons with lots of very funny scenes and lines and a bit of emotion thrown in.
Reviewer: David Chadderton