East is East
Ayub Khan Din
Jamie Lloyd Productions
Trafalgar Studios
–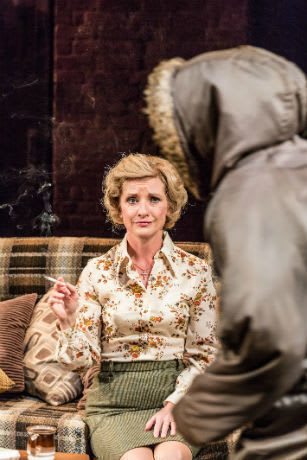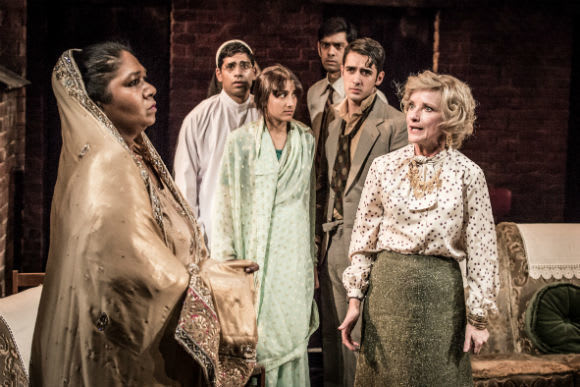 The second play in Jamie Lloyd's Trafalgar Transformed: Season 2 explores religious intolerance in Salford during a particularly trying time for Anglo-Pakistanis in 1971.
The surprising and frankly depressing realisation will soon dawn on viewers that, but for the references to the war between India and Pakistan over the latter's eastern territories which were soon to become Bangladesh, almost all of the issues in East is East seem just as relevant today as they did almost two decades ago when the play made its London debut at the Royal Court.
The Khan family can be seen as representative of their besieged Motherland, internecine disputes going off with great regularity generally between father George, superbly played by the playwright himself, and the rest.
Holding the warring family together against a background of grim terraced houses is mother Ella, given great depth and humanity by Jane Horrocks (as Linda Bassett did when creating the part on stage and in the movie version).
She makes good double acts with both Ayub Khan Din in a bittersweet marital battle punctuated by both love and hatred and Sally Bankes taking the role of her cheery undertaker sister Annie.
A generation down are seven confused youngsters from mid-teens up to 20s. Each has his or her own very distinct character, despite some quite deliberate stereotyping.
Between them, the six that we see say much about what it means to come from a second-generation, mixed-race family whose embittered patriarch is struggling to maintain his dignity in a strange land, albeit one that has been his home for thirty-five years.
As George points out early on, "I come to this country with nothing". However, he soon found his feet, eventually heading "the Paki (sic) family who run the chippie", an emporium manfully manned by an assortment of resentful but boisterous kids.
While he clearly wants the best for his family, the Muslim tradition of obedience is diminishing, only potential zealot Maneer played by Darren Kuppan following in his faithful footsteps.
The oldest son has already fled to a normal, secular, Anglicised life and problems lie just around the corner when George attempts to fix arranged marriages for the next pair.
Before that, there is much good humour particularly surrounding Michael Kareem as geeky Sajit (or Twitch to his siblings). This is a teenager never more comfortable than when hidden by the pungent parka of invisibility, whose late circumcision will have male members of the audience wincing.
Amongst the others, there are the responsible, the rebellious and the irreligious all vying for moments of freedom from the tyrannical, domineering George who hides his own depression beneath bitterness and anger.
The pick of the supporting performances come from Taj Atwal as tomboyish daughter Meenah and Amit Shah playing selfless peacemaker Abdul.
The two-hour long evening builds to a tea party which is a toxic explosion of comedy and cathartic pathos, eventually suggesting that peace in the family could be almost as long-lasting as that which eventually, somewhat uncomfortably, embraced Pakistan, India and their new neighbour.
In a country that receives constant reminders that Muslim fundamentalism and patriarchy are still prevalent, East is East is just as relevant today as it was when first produced and also just as funny.
The success of the evening owes much to the inventive direction of Sam Yates, who maintains the pace with lightning fast transitions between scenes and also ensures that the rapport between every one of the characters is lively throughout.
Reviewer: Philip Fisher