Eat the Taste
Greg Kotis
Barrow Street Theater
New York
(2004)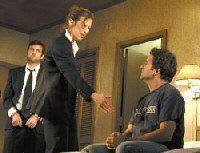 Eat the Taste is an object lesson as to why one should not eat too much cheese late at night. It is a dystopian dream play that simultaneously manages to satirise American politics and theater people.
Writer Greg Kotis and Mark Hollmann, who collaborates in a Tom Lehrer-style song that veers into gospel, are a team famous for the Obie and Tony-winning Urinetown. This was one of those strange off-Broadway musicals that became such a cult hit that it made it on to The Great White Way.
They have teamed up with director John Clancy and some of his friends to perform a zany comedy that in true Clancy fashion fits two hours of material into one. This is mainly thanks to machine gun-like delivery with words spat out like rapid bullets; and precise, spare direction.
The play opens with one goofy secret agent searching a grungy motel room, impressively designed by Lauren Helpern. This is Bill Coelius' Number 3, a goofy and remarkably inefficient representative of the Department of Homeland Security. He is soon joined by his colder colleague, Number 72 played by Paul Urcioli, and Eva van Dok as their aspirin addicted "Boss" Agent 20, from the Department of Justice.
If these names sound familiar it is because they are all regular Clancy collaborators and worked together with him on Americana Absurdum in the USA and London.
The group has a hostage in tow, head initially hidden by a Snow White pillow case. This turns out to be an actor playing playwright, Kotis. The actor is the curly-headed Greg Kotis, himself.
Bizarrely, the (former) U.S. Attorney General John Ashcroft has ordered a mission to persuade the Urinetown team to write a musical for him in order to launch an inevitably successful Broadway career.
For a man who is "unusually funny" with a "great voice" (the last not apparent from a tape), becoming the next Nathan Lane should present no problem. His $45m capitalization will make sure that he wins the day.
The problems for the plotters are manifold. Kotis is a left-leaning intellectual who does not want to "Eat the Taste" and get into bed with the political right. Despite help from Urinetown and Wicked producer, Matthew Rego (Gibson Frazier) and then pony-tailed musical collaborator, Mark Hollmann (Himself), the agents struggle to win Kotis over. This is largely a result of symbolic strife between different Government departments with Vice President Dick Cheney's Office to the fore. Even Donald Rumsfeld and the War on Terror get in there.
All of this is well-acted and delivered with great speed and much humour, both verbal and visual. It is very funny and pokes as much fun at the theatrical profession as it does at the stuffy right-wingers who govern this country.
The political message though is sinister. Did Avenue Q really beat Wicked to the Tony under the instructions of the Attorney General? We have a right to know.
Book now both for Eat the Taste and also John Ashcroft's long awaited Broadway debut. The rumour is that it will sweep the board at the 2006 Tonys. Why not? Kotis and Hollmann have been there once already.
Reviewer: Philip Fisher