Echoes of Eternity
Choreography Patrick de Bana
Shanghai Ballet in co-production with Shanghai Grand Theatre
London Coliseum
–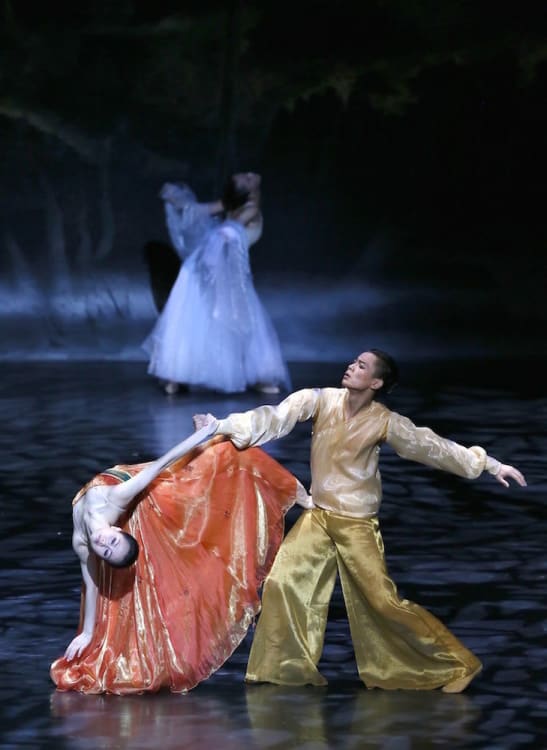 A ninth century (806) poem from popular prolific Buddhist poet, Bai Juyi, a love story that has passed into Chinese and Japanese legend, a meditation on love. Meditation is the key word. I have never left a ballet so becalmed and still. Echoes Of Eternity ought to be on prescription.
Bai Juyi's "Song of Everlasting Sorrow" is based on one of China's greatest love stories of the eighth century little known in the West, that of Emperor Tang Xuanzong (reigned 712-756) and his favourite concubine, Yang Yuhuan.
German dancer turned choreographer Patrick de Bana has spun very carefully—think Russell Maliphant, think his martial arts inspired dance calligraphy, think East and West in collaboration—an epic love story of operatic dimensions into an intimate contemporary ballet that speaks of pure love without any histrionics.
The bare outline of the plot is that the Emperor, for the besotted love of concubine Lady Yang, neglects his court duties and ignores calls to defend his land. When An Lushan's forces invade, she makes the ultimate sacrifice with a silk scarf.
It matters not whether one has read the poem extract in the programme notes or knows any of the backstory; the three main characters are clear: the Emperor (Wu Husheng), his love Lady Yang (Qi Bingxue) and the supernatural Moon Fairy (Zhao Hanbing), a cross between a Wili from Giselle and a hunched hag, haunting the living, leading Yang, so gently, to the underworld.
These three in their own spotlights on a bare stage open in elegiac prologue; these three, with scuttling confidante to the Emperor, Gao Lishi (Zhang Yao) deferential in the shadows, are the protagonists, the rest, the rows of concubines and Polovtsian-like warriors, is window dressing.
The lovers' pas de deux are gentle, tender, modest, playful and dreamy: Qi Bingxue's arms and upper body fluid, expressive, extensions lovely, feet soft (no pointe shoes); Wu Husheng unforced and light on his feet. Women rise on the edge of tiptoes, take tiny steps: makes me think of bound feet. There's plenty of space for thoughts during the slow-paced two-hour performance.
I am dazzled by the long, elegant, expressive flowing arms and fingers of both women—girl I should call demure, serene Qi Bingxue, who is only nineteen, and quietly commanding with lovely technique. Bruce Lee's maxim pops into my head: "Be like water making its way through cracks. Do not be assertive, but adjust to the object..."
I am dazzled by former Paris Opera principal dancer Agnès Letestu's costume designs: regal yellow silk for the Emperor, delicate butterfly / field poppy red for Yang, and gauzy white, of course, for the Moon Fairy. Concubines in plum red, warriors in metallic vests and wide flowing trousers, the courtiers in midnight blue and bronze. Lady Yang's endless red robe train, metres of the stuff, is a stunning visual statement.
Taking inspiration from the ethereal "Song of Everlasting Sorrow"—Echoes Of Eternity libretto by French dramaturg Jean Francois Vazelle—de Bana manipulates emotions with an eclectic musical score, a film score in effect, that includes Henryk Górecki (a natural fit), Philip Glass, Armand Amar, and Ravid Goldschmidt, and keeps us alert to every nuance.
Kodo drummers and Mongolian throat singers dramatize the necessary scenes of war, which are probably the reason for the very mixed reviews that Shanghai Ballet has garnered, from two to five stars. Vocabulary is reduced to circuit running, great leaps and aggressive posturing.
But, this is a minor quibble—most ballets have padding, necessary crowd scenes. It is always the pas de deux one waits for, the essence, the core that moves the heart—Kenneth MacMillan knew that and choreographed them first. The Echoes Of Eternity unhurried pas de deux do not disappoint. I think of Hamlet, his head in Ophelia's lap, another tragic tale. Echoes, indeed. Orpheus and Eurydice…
Under an off-centre spot, after Yang has been led away to a world with no shadows, clouds, mountains, vistas (beautiful backcloths, set design by the late Jaya Ibrahim, this his last work), marbled floors, red pillars, she reappears and once more cradles her lover's head in her lap, as snowy petals fall.
Art cinema beautifully done frame by frame, beautifully danced: if you want to shed the stress of modern day life, do go. De Bana has danced under John Neumeier, Maurice Béjart, Nacho Duato, worked with film director Carlos Saura, and their influences show.
His dance vocabulary is not vast: like the poet, he tells it in language simple enough for the servants. Apparently Bai Juyi tested his verse on the illiterate menials and, if they didn't understand a word, he changed it.
Reviewer: Vera Liber