Edward Scissorhands
Devised, directed, and choreographed by Matthew Bourne
New Adventures
Sadler's Wells Theatre
(2008)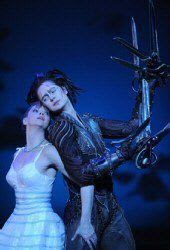 Five hundred thousand people can't be wrong. Can they? That's approximately how many have seen Edward Scissorhands worldwide. Is there any need for another review? The show has been touring successfully since it opened in London on November 23rd 2005.
New Adventures, Matthew Bourne's 2002 resuscitation of his former company Adventures in Motion Pictures, has grown into a juggernaut company employing over a hundred dancers for this show alone, not to mention the supporting crews.
Somewhere in the world audiences are enjoying his master dance theatre works: Swan Lake, Highland Fling, Nutcracker!, Cinderella, The Car Man, Play Without Words. In London he has created choreography for Oliver!, My Fair Lady, South Pacific, Mary Poppins, and garnered many deserved awards. And much, much more - what a treadmill!
One can see where his heart and expertise lie. Star-struck, brought up on Hollywood musicals, he emulates the great narrative musical shows of the 1950s.
Encouraged by Tim Burton and his collaborators on the 1990 cult film to follow his heart and adapt Burton's dark gothic fairytale into dance theatre, Bourne has turned it into a sentimental saccharine dolly mixture confection for Christmas - a musical show without words And, without show-stopping numbers. But the family audience love it, cheering it to the rafters.
Edward Scissorhands, an unfinished being (Frankenstein, Coppélia) by an eccentric inventor living in an old Psycho house on the hill, is left an orphan when his creator dies after a trick or treat scare. With scissor blades for digits (Shockheaded Peter), and no knowledge of the world, he might as well be a creature from outer space, or a newborn, finding the world with its peculiar rituals and customs not easy to fit in to, or even understand.
Nothing more idiosyncratic than the seductive strangeness of American sweet apple-pie suburban life - represented by six families - mom, dad and a pigeon pair of children An amusing, if somewhat reductive cartoon strip world.
With exaggerated observational physical mime the large (rotating) cast of thirty-four breath effervescent life and vivid characterisation into the two-dimensional clichéd caricatures. There's the bored vamp housewife, sitting on a vibrating washing machine (where have we seen that before?), her henpecked husband, the ideal squeaky-clean family, the bad boy, the bible-thumping family, the slovenly, and the hoity-toity.
The subversive destabilising threat of the innocent amongst the knowing, and the implicit fear of the alien are brushed away by a charming feel-good production, which concentrates on the positive - Edward Scissorhands' topiary (which dances), hairdressing, and ice-sculpting talents - until the worm turns, and Ed evaporates into thin air, his love for smiling cheerleader Kim unrequited. She, of course, has a thing going with bad boy. Grease, anyone? And homage to any other musical you care to name.
I saw the show on a proper night, a Saturday night out, not on press night. It fielded sweet-faced Matthew Malthouse as Edward, not the sharpest knife in the box, and Noi Tolmer as his love interest Bobby-soxer Kim Boggs. Etta Murfitt was a lovely Peg Boggs; and Steve Kirkham as George Monroe and Nina Goldman as Joyce Monroe made a marvellously funny ill-matched couple.
The music composed, arranged, and adapted by Terry Davies from the original film score by Danny Elfman, and played live by members of the Royal Ballet Sinfonia (who got a cheer), provided some much needed dramatic variety.
But laurels must go to the show's designer Lez Brotherston, Bourne's regular collaborator, for his intelligence, wit, and creativity. His satirical picture book housing estate of pastel-coloured identical boxes with skew-whiff perspective and picket fence set, and glorious technicolour fifties costumes and hair define and rescue the show from drowning in syrup, and provide the subtext.
The strength of Edward Scissorhands is not the overlong group dance numbers, or the limited vocabulary of the broad brushstrokes anodyne schmaltzy choreography. Electricity may have brought Edward with the electrically charged porcupine hair into the world, the electric blue poodle may have a shocking clip cut, but this is not an electrifying show. I have to say I prefer early Bourne - Swan Lake, Highland Fling - to later Bourne. But he keeps the show on the road, and long may he continue to do so.
If you like candyfloss or cheesy retro reinventions, this is the show for you. As for me - and I don't wish to rain on the parade or on anyone's Christmas spirit or goodwill - but bah, humbug!
And I do love all those high gloss Hollywood musicals Ah, those were the days! Escapist, naïve, gullible, and secure - what can be more reassuring in our sophisticated, cynical, disenchanted lives? Who are we kidding?
Until 18th January, 2009
Reviewer: Vera Liber