Einstein on the Beach
Robert Wilson - Philip Glass
Barbican Theatre
–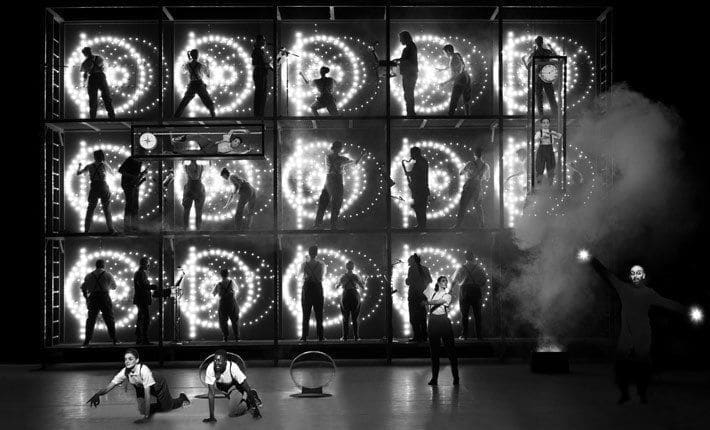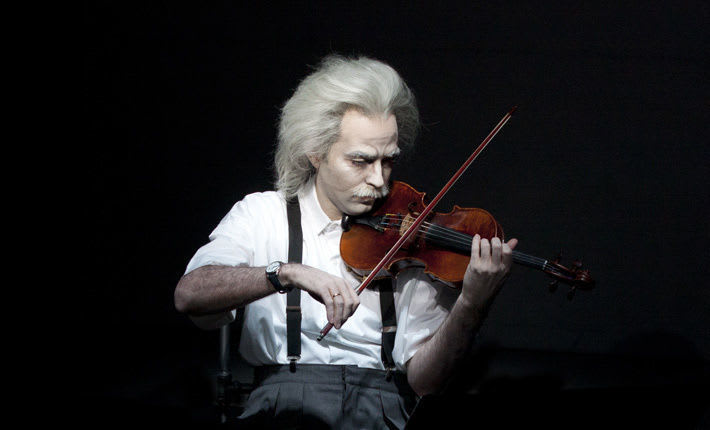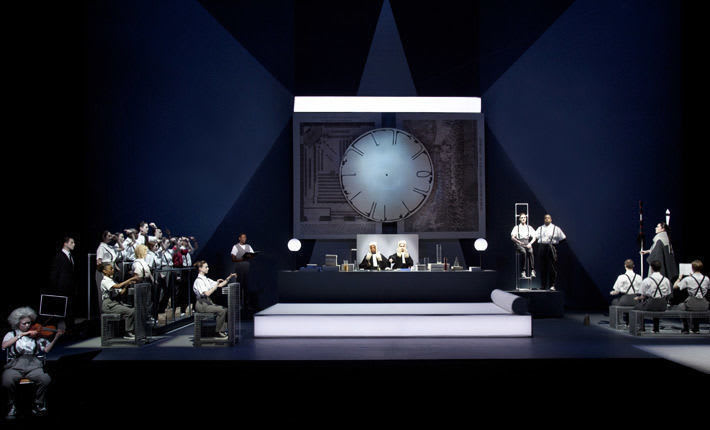 Intoxicating or infuriating? Visitors to Einstein on the Beach could easily go either way in this debate but most will probably have spells during the evening when each of these adjectives seems appropriate.
That is not so surprising when Philip Glass's minimalist opera is timed to last for just under five hours without an interval. On its long-delayed British premiere, technical problems extended the evening to 5½ hours with a welcome 15 minute break to grab a sandwich and a drink while the flying systems were reset.
Even so, the finale was ultimately muted, as the anticipated aerobatics had to be abandoned, which was a pity but barely detracted from the overall experience.
It has taken Einstein on the Beach 36 years to get here but pleasingly, the whole of the creative team, composer Philip Glass, director and auteur Robert Wilson, choreographer Lucinda Childs and music director Michael Riesman were all involved in this revival and able to take rapturous curtain calls from a packed house.
So what is all the fuss about? For the average theatre / operagoer, the story and the message will be at best clouded. Intermittently, moments from Einstein's life impinge on the opera and we witness scenes from early days to marriage, ending with the A bomb and a final message that love overcomes every problem.
The attractions though lie in the music and the production qualities. It has to be said that Glass's work can be reminiscent of Waiting for Godot—Nothing happens then it happens again... and in this case again and again almost ad infinitum.
The music is repetitive with minimal variation, often for extended periods but it has a visceral quality that becomes mesmeric and grows on you so that by the end, various riffs feel like old friends. It works so well that your critic is now desperate to get home and relive the experience on those much-listened to 25-year-old CDs.
Glass's music does draw on different genres and is perfectly performed, challenging the best of musicians, led by Einstein-lookalike violinist Antoine Silverman and especially singers. There is also an unexpected but invigorating saxophone solo delivered late in the piece by Andrew Sterman.
In addition to the music, this production features is a team of dancers from the Lucinda Childs Dance Company who give their all, plus two actors who are required to learn complex, if repetitive lines and movements and deliver them impeccably if they are to retain the mystique. Helga David and especially Kate Moran, in a role created by Miss Childs, duly deliver in often trying circumstances.
The tableaux often look beautiful, even when little is going on, with some of the most memorable, court and prison scenes, different types of transport and a spectacular lightshow worthy of a rock concert.
It is very hard to express the pleasure that one can derive from what sounds like an epic ordeal. That is because the real attractions of this kind of work lie far down in the unconscious which somehow processes music, imagery and words into something unique and becomes well worth the investment of time and money that a visit to Einstein on the Beach will entail.
Reviewer: Philip Fisher