Electra
Sophocles in a version by Frank McGuinness
Old Vic Theatre
–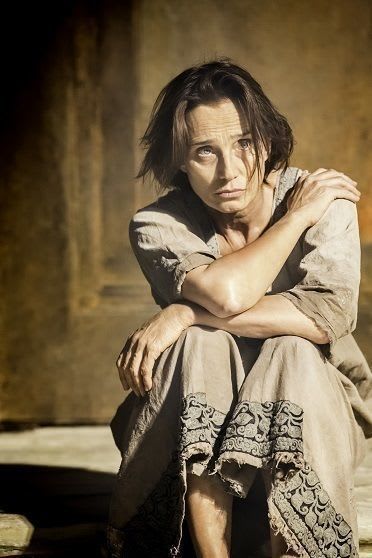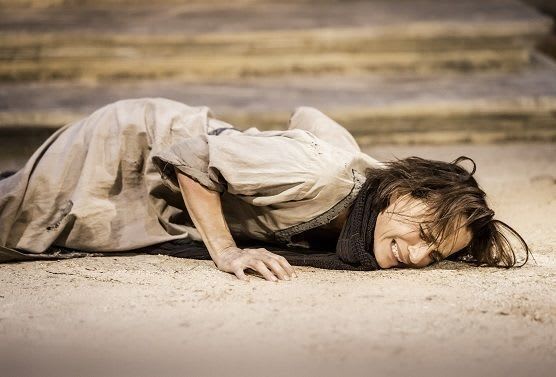 It was always likely that this would be the Kristin Scott-Thomas show and Electra duly becomes an acting masterclass led by a stage and screen star right at the top of her game.
That is not to detract from this production's other elements. In his 1997 version, Frank McGuinness delivered a fluid, modern version of Sophocles, which adds immediacy to a truly tragic tale.
Ian Rickson, who had such a success with Miss Scott-Thomas in The Seagull (not to mention a couple of Pinters), makes good use of the Old Vic's current in-the-round configuration, with a symbolic dead tree and cold water tap the only adornments beyond the forbidding doors of a palace.
The staging, designed by Mark Thompson, draws spectators into the drama, which judging by the costumes and dust appears to have located itself somewhere in Arabia at an indeterminate time, the location complemented by discordant music composed by P J Harvey, hitherto better known as a radical pop diva.
The story should be familiar. Aided by his successor, Aegisthus, Diana Quick as a magisterial Queen Clytemnestra has murdered her husband Agamemnon, a mythic figure with his own darker side.
Clytemnestra might have had good reason to take revenge but, even so, for a fair part of the evening her eponymous daughter can seem like a female Hamlet, worrying about and memorialising her dead father while raging incandescently against the perpetrators of his death.
Electra publicly mourns and rages, allowing her portrayer to demonstrate anger and anguish in equal painful measure, often prostrate in the dust.
Throughout, the skeletal, haunted figure of devastation is followed by a loyal trio of female fellow travellers who collectively make up a sympathetic chorus.
Her loneliness is only partly assuaged by the presence of her more emollient sister, Chrysothemis, the royal son, Orestes played by Jack Lowden having been spirited into exile.
The drama ramps up after the story of Orestes's death is spread yielding a surprising response from his mother, the cruel, self-important Queen as happy as her elder daughter is distraught at the news.
His return and the response that evokes in Electra shows great psychological insight on the part of all concerned, recognition and acceptance only slowly taking over from disbelief.
The revenge tragedy is finally played out in suitably moral fashion, leaving nobody but the Gods really satisfied.
All of this takes place in a grim but gripping 100 minutes filled with mood swings and changes of pace and tempo.
While there is an undoubted leading lady, strong support is offered in addition to Diana Quick and Jack Lowden with Liz White as the more cautious sister and Tyrone Huggins a deliberately lightweight Aegisthus also worthy of note.
It is pleasing to report that Kristin Scott-Thomas lives up to the highest of expectations with a heartfelt and at times deeply moving performance that teeters on the edge of madness and will live long in the memory.
Reviewer: Philip Fisher