Electric Hotel
Commissioned by Sadler's Wells and Without Walls / Produced by Fuel
Goods Way, Kings Cross
(2010)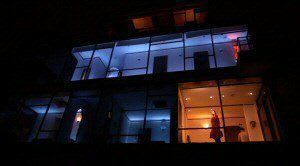 Production company Fuel has again produced a potentially interesting piece of work with Electric Hotel, a site-specific work conceived and directed by David Rosenberg (co-founder of Shunt), choreographed by Frauke Requardt, designed by Börkur Jónsson, lit by Natasha Chivers, and with composition and sound design by Ben and Max Ringham.
Built ingeniously and with daring skill out of six tall shipping containers this ready-made hotel could 'pop-up' in an unexpected place near you. It has already been in Norfolk, Brighton, Bristol, and will 'pop-up' in Stockton soon. In London is has taken temporary residence next to Gas Holder 8 in Goods Way, Kings Cross, on the development site behind the stations.
An atmospheric setting - lorries thunder past to the goods yards, and the curves of the railway terminals are visible against the night sky. A place for transients then, this four storey five star hotel, which has seen better days. What stories it could tell.
A rooftop swimming pool and cheesy nightclub, two floors of hotel rooms, stairs and corridors, and a ground floor with a real bar for the audience. Looks like a sixties Soviet quick-build. Floor to ceiling windows reveal the hotel clients in all their intimate ways. All is not what it seems. It never is.
A self-harming/masturbating woman in red (Michela Meazza), a boy in Indian headdress with red axe/tomahawk, a cross-dresser, a pregnant wife and recalcitrant husband, the hotel maid who sees and knows more than we do, a motor bike delivery man, strange ape-faced men in brown suits and woolly hats, and scary things in closets.
In David Lynch territory? Maybe. Depends on one's imagination. Much is suggested, but quite frankly this voyeur lost interest quite early on. The Electric Hotel proves to be a bit of a damp squib.
A voyeur's lot is not an easy one, and unpredictable English weather makes it doubly so. Sitting stoically for a very long hour in a drenching drizzle that penetrates to the skin in spite of cling-film capes, water dripping off nose and running down cheeks, one longed for the comfort of James Stewart's apartment in Hitchcock's Rear Window.
And the audience - an amorphous luminescent mass with green lights shining from ears under white plastic hoods - must have looked stranger than what was passing in front of it.
What did keep the attention was the Ringhams' binaural soundscape coming through the headphones. Working with the Wellcome Trust and the UCL Ear Institute, they have created a wraparound aural experience, which is astounding.
The sound guides the eye. We hear ambient background music, feet on gravel, pounding rock music, water splashing, a beating heart, the vacuum cleaner, screams in the night - this is cinema surround sound happening inside our own heads. A woman in front of me turned around deceived by audience noises part of the soundscape. Most impressive.
Less impressive is the navel-gazing movement vocabulary, choreographed in collaboration with the seven dancer performers. Frauke Requardt's repetitive moves (yes, life repeats itself) borrowed from mundane gestures are limited and limiting.
In the programme biographies I notice that one of the dancers has worked with Lea Anderson, and her influence is evident throughout, but there's none of her sense of style, wit, tension or dynamic.
The programme notes in the shape of Do Not Disturb signs promise much - careful collaboration, thought-through concept, marvellous design - but the best prepared work can produce a clichéd end result.
Fuel should take a look at Wishbone Theatre who suggest mystery and intrigue with a simple single moving screen.
Or Herbert Wernicke's Actus Tragicus, a setting of six Bach cantatas staged inside a cross-section of a four-storey house where all of human life is taking place. Nothing banal about that
Till 19th June 2010
Reviewer: Vera Liber