Elling
Based on a novel by Ingvar Ambjornsen, stage adaptation by Axel Hellstenius in collaboration with Petter Naess. English adaptation by Simon Bent
Bush Theatre
(2007)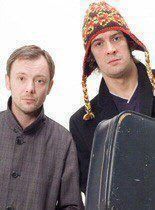 If ever a play was destined for success, Elling is it. This may seem unlikely, when it is revealed that Elling is a Norwegian comedy about two men released from a mental hospital, or nuthouse as they put it, to take their chances with Care in the Community.
However, when Life on Mars star John Simm is playing the title role and his buddy is portrayed by Teachers' Adrian Bower, it was not surprising that by press night, the whole run had sold out.
Elling has achieved cult status in Scandinavia. It is based on a series of novels by Ingvar Ambjornsen that were turned into both stage and screen versions to popular acclaim. The film received an Oscar nomination for Best Foreign Language Film in 2002 and has won a string of awards across Europe.
After that build up, there was a question as to whether Simon Bent's new English version of the play could live up to this hype. It does.
We first see budding poet Elling and his friend, 40 year-old virgin but would-be sex God Kjell Bjarne (Bower), as they meet in the mental institution and then fast-forward to the moment when the pair are to be released.
Their unfamiliarity with society is so great that they are perhaps more like Simm's Martian friends than wide-eyed children. This applies to the extent that even a trip to the shops is more than Elling, looking uncannily like Herbert Lom in the Pink Panther movies, can contemplate, let alone achieve.
However, thanks to the efforts of their social worker, Keir Charles' Frank Asli, they begin to integrate, at least a little. First, to the chagrin of his friend, shaggy Kjell Bjarne, who looks and acts rather like Cookie Monster from Sesame Street, literally picks up their pregnant neighbour, one of several roles given to the versatile Ingrid Lacey.
Then, to the disbelief of all parties, our titular hero meets and charms an eccentric old buffer played by Jonathan Cecil, who turns out to be a "quite famous poet".
Eventually, the four go out on a comic trip to the country that, if nothing else, has the effect of jerking the eccentric new tourists into something like normality and suggests an ability to survive in society that had seemed highly unlikely in the opening scenes.
At the end of what can at times be a hard edged play addressing an issue that society is only too keen to sweep under the carpet, the writers strangely go for an unfeasibly fairy-tale ending, so sweetly sentimental that it drew audible "ahhhs" from several female members of the opening night audience. If nothing else, this begs the question as to why men are unwilling to express similar emotional feelings.
Under Paul Miller's direction, the two stars complement each other and portray these unorthodox demi-heroes with great conviction.
Elling is quirky and really one of a kind. For this reason, it is far more than just a star vehicle for a couple of big names from television. It might duck some of the less palatable issues associated with those who spent decades in care and are then released into the community but it presents two believable characters and allows us to laugh with them rather than at them, which is quite an achievement.
Visit our sponsor 1st 4 London Theatre to book tickets for West End transfer of Elling.
Reviewer: Philip Fisher