The Emperor Jones
Eugene O'Neill
Irish Repertory Theatre
SoHo Playhouse, New York
(2010)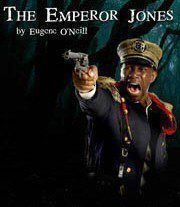 The Emperor Jones is a play that brings the best out of both directors and actors. Thea Sharrock directed a much lauded production first at the Gate and then the National starring Paterson Joseph as an escaped American criminal turned dictator in a country that might be Haiti.
The Irish Repertory Theatre under Ciarán O'Reilly have come up with something that is perhaps even more extraordinary, showcasing the considerable talents of John Douglas Thompson in what for most of the 70 minutes is effectively a solo performance.
He opens in the company of a colonial administrator, Peter Cormican lending Smithers appropriate seediness but using a Cockney accent that would certainly not be recognised as such within the sound of Bow Bells.
At this stage of his pomp, the African-American Brutus Jones sounds like a boastful heavyweight boxer talking himself into the belief that he is invincible.
Slowly, he begins to understand that his two-year reign of fear may be up, as his minions have run away to manufacture the silver bullet required to kill this almost mythic character.
His decision to run may be inevitable but where he goes is worthy of the imagination of Tim Burton, currently filling most of a floor at MOMA with his eccentric artwork. Indeed, much of the design seems influenced not only by native imagery but also other works in that art museum.
Jones takes off into a jungle that is bordered by impenetrable bamboo, supplemented by sinister human trees that could easily be the stuff of nightmares for more callow audience members.
He becomes increasingly panicky as more and more visions appear, each demonstrating the fantastic imaginations of director and his designers Charlie Corcoran (set) and Antonia Ford-Roberts (costume).
There are costumes and masks, incredible puppets of every size from tiny to life-size, never seen to better effect than in a mocked-up chain gang recalling one black moment in the anti-hero's American career and perhaps symbolising his people's slavery.
By the end, when Jones is forced to accept his fate, you cannot help but sympathise with a terrorised man who might well have behaved as a tyrant but has just been through a living hell, which might be as much in his mind as reality.
This is one of the best small-scale theatrical productions imaginable and John Douglas Thompson the finest of actors. It has already transferred once and deserves a long and successful life.
Reviewer: Philip Fisher