En Route
One Step at a Time Like This
Presented by Theatre Royal Stratford East and Richard Jordan
Stratford E15
–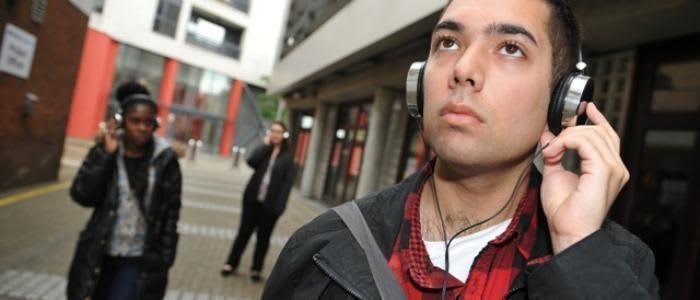 This is an Australian contribution to the Cultural Olympiad from this Melbourne-based live art / theatre company (the only other was Sydney Theatre Company's production of Botho Strauss's Gross und Klein at the Barbican with Cate Blanchett). The first form of the show was seen in Melbourne and this young team has taken it to several cities, but this is a one-off specially created for Stratford after Kerry Michael, the theatre's artistic director, saw it at the Edinburgh Festival last year.
It is not a play in any conventional sense. It is, well, at its most obvious, a walk round Stratford E15, but no ordinary walk, a very special one and one of those difficult things to report because I want to whet your appetite without giving so much away that I spoil its surprises.
It can be a shared or a solo journey (cheaper if you are two or three together) which inevitably will make the experience slightly different. I did it on my own.
Having booked—it is a day time event—you are sent a text message telling you where to turn up at your time slot for your En Route assignation. Having made physical contact, you are given an identifying symbol and sent off down the street. It is not long before you are accosted, in my case by a gentle-voiced Aussie. He briefed me, fixed me up with an iPod and headset, exchanged mobile numbers and assured me that if I got lost "geographically, technologically—or psychologically" help was at hand. I just had to call En Route Central. Then I was sent off, playing track 1 on the iPod, with instructions on where to turn off the road.
The pre-recorded tracks aren't a drama or a narrative but ambient music, composed and played by East London artists together with information on your route and occasional instruction, where to stop, just occasionally something to do but they are not interactive, nor, unless you chose to make them so, are the text messages you receive from time to time. The first track encourages you to keep your eyes well open, not just for visual signs and messages that may have been left for you.
Sometimes, a woman's voice especially talks about her own feelings, but you have to concentrate for instructions as her delivery is laid back, not very clearly spoken and easily becomes just background. I spotted people ahead of me with earphones, other participants, but soon passed them deciding I wanted to make this a more personal trip. Tape ended and having reached a point where I was unsure where to go I found someone loitering in an alleyway on their mobile. Checking for any visual signs to follow and resuming I found them in a different place ahead of me. They didn't speak but should I interrogate them? But then my mobile rang. I had a message.
As you are guided on your journey, you find a Stratford of great contrasts, the new, the old and crumbling, busy and deserted, places you didn't know existed or familiar ones perhaps that En Route offers in a new light. You can hurry along or take your time. A speedy pace may leave with a few moments of hiatus as you wonder if you have correctly followed your instructions: time to take a more searching look around, but check your phone and there will probably be a message. If you are seriously astray, there are guardian angels to put you right, but it is not only via your mobile phone that messages arrive; at one moment a hand grabbed mine and helter-skelter led me onwards before delivering secret sealed instructions, a sudden change of pace and fleeting charming company.
Instructions can be misinterpreted; one person's literal meaning is not always another's. I twice misjudged their meaning, my non-appearance at an expected location leading to calls checking my position and action to put me back on track. Such disruptions add to the interest of the event for they increase its unpredictability, though they do extend its duration which for most people will probably be 90 minutes or a little longer. In fact the area you cover is very small and for those who know Stratford they will pass through very familiar places.
It is the more surprising, therefore, that these Australian visitors have come up with so many contrasts and surprises, have created an experience that will almost certainly take you somewhere you have never been before and make you see things in a different way, discovering a multi-ethnic Stratford that seems to be one of the fastest changing places in our city.
Reviewer: Howard Loxton