EN / The Call / Juba / Revelations – Alvin Ailey American Dance Theater Programme B
Choreography Jessica Lang / Ronald K Brown / Robert Battle / Alvin Ailey
Alvin Ailey Dance Theater Company
Sadler's Wells
–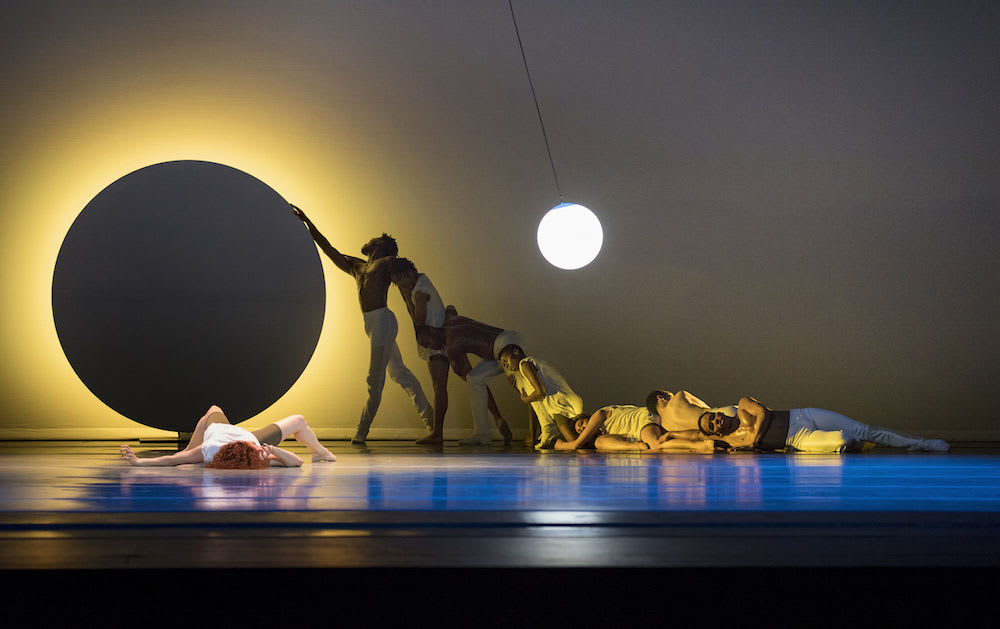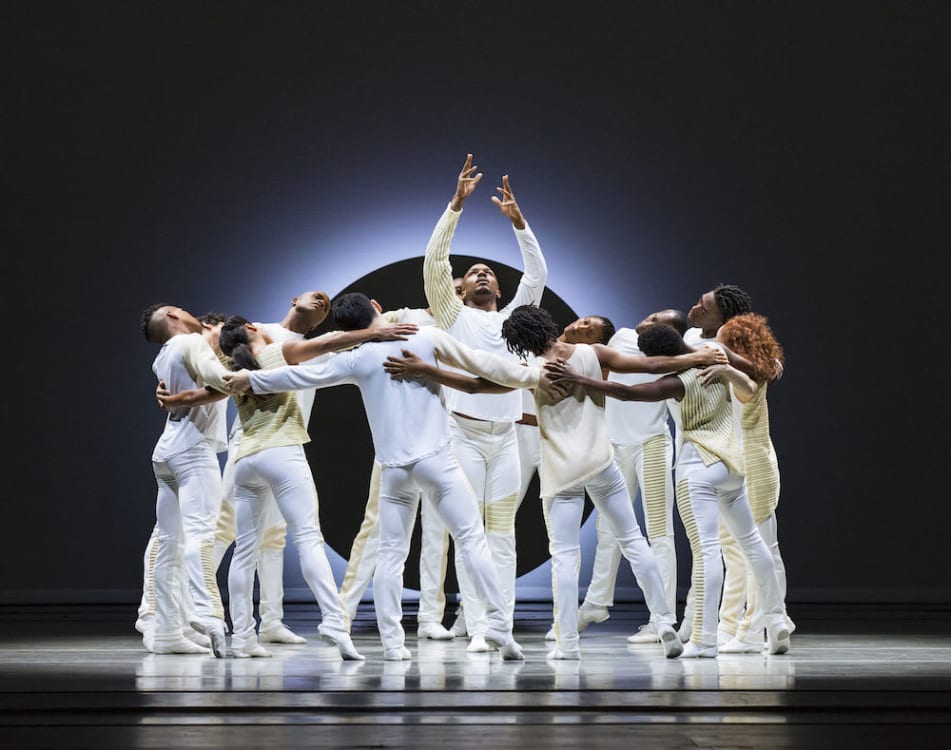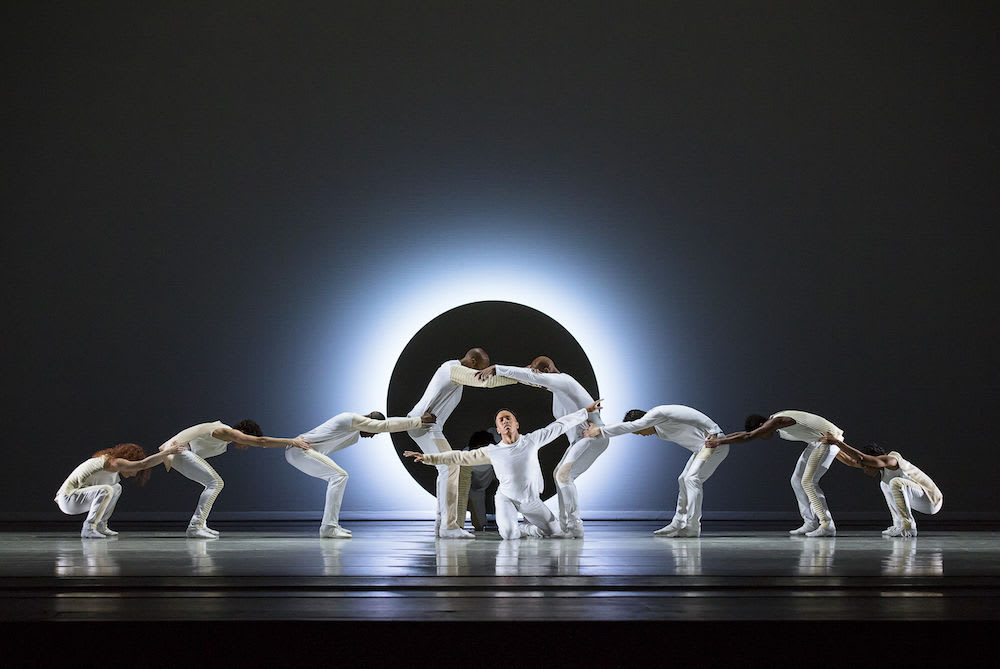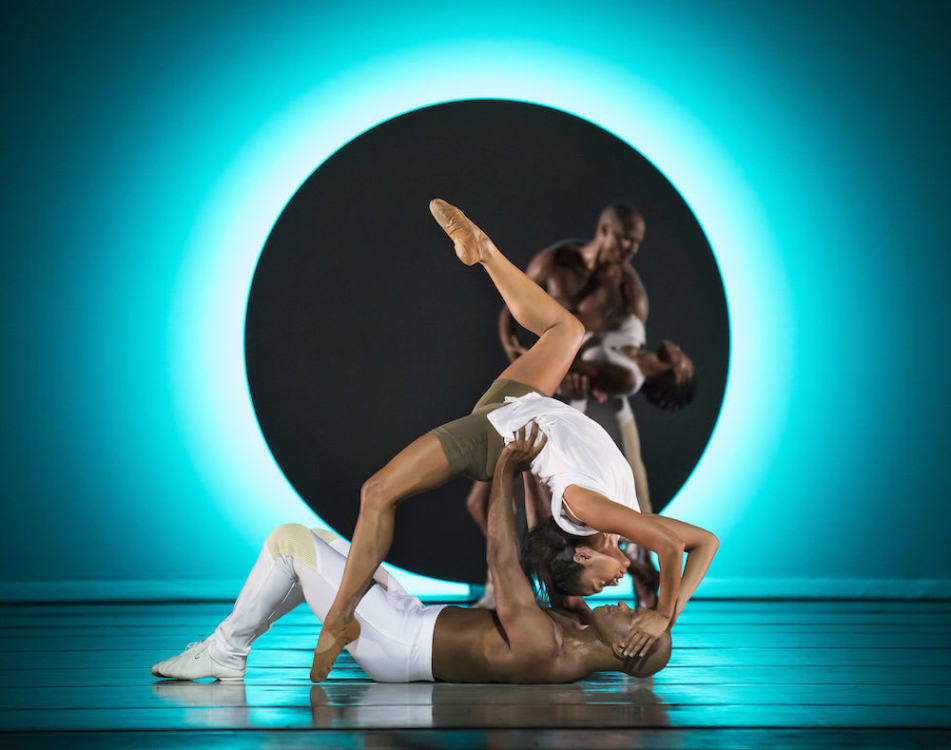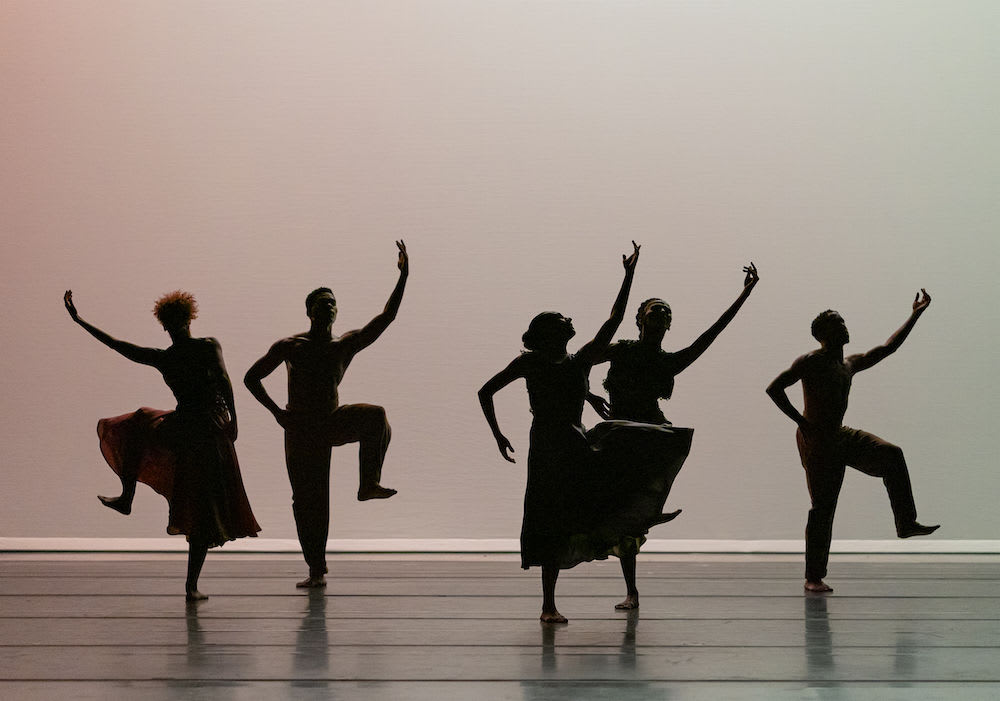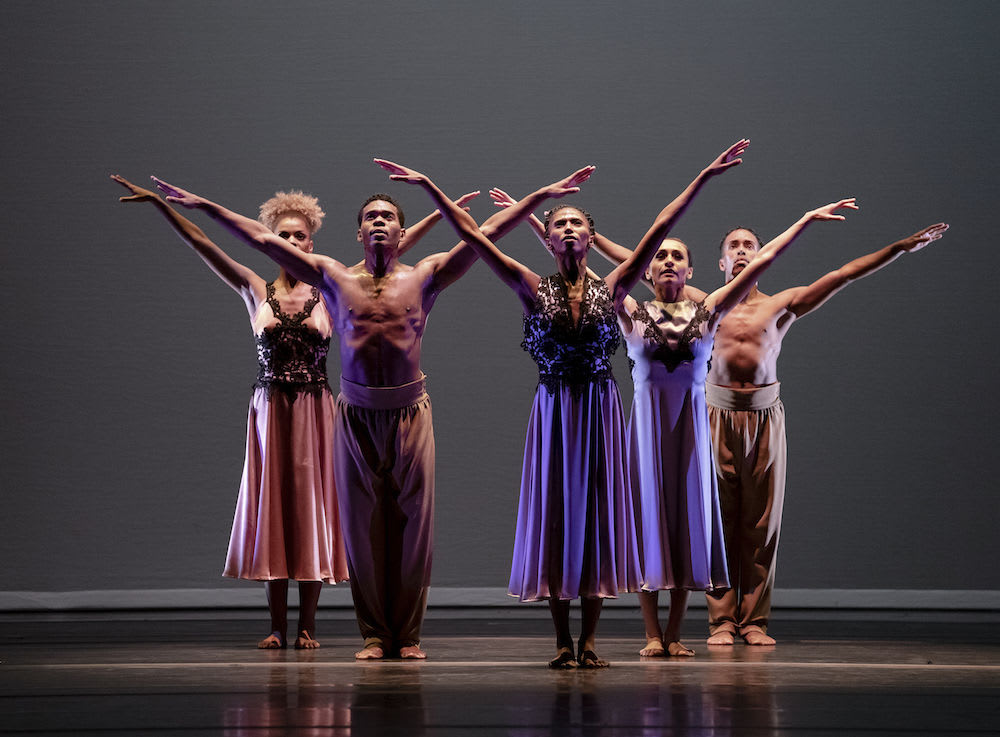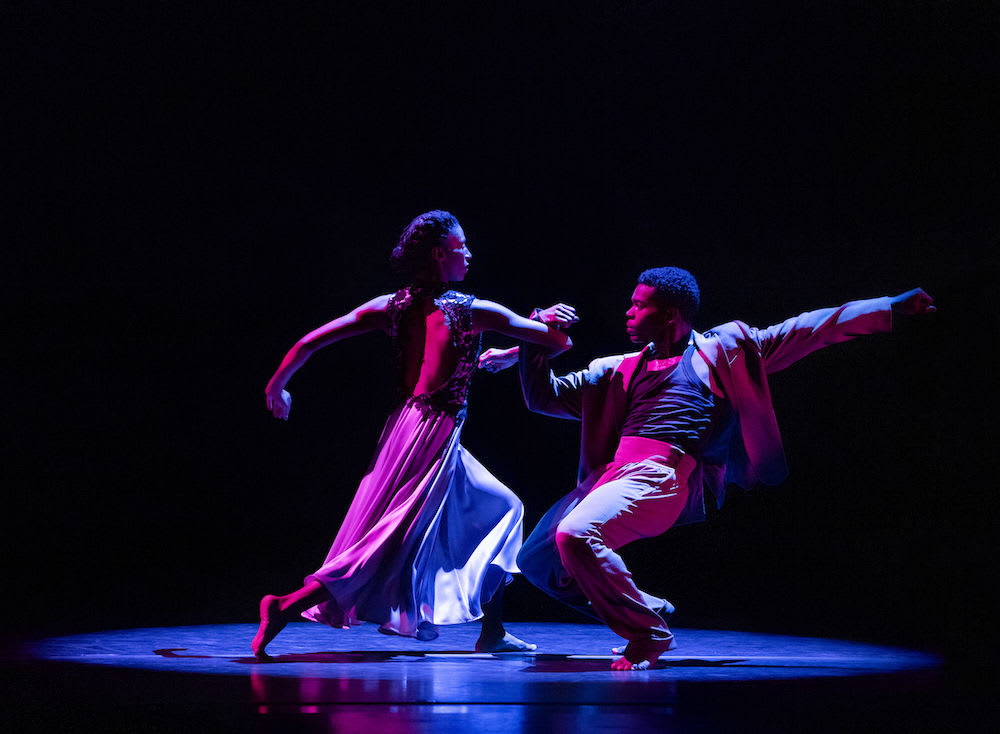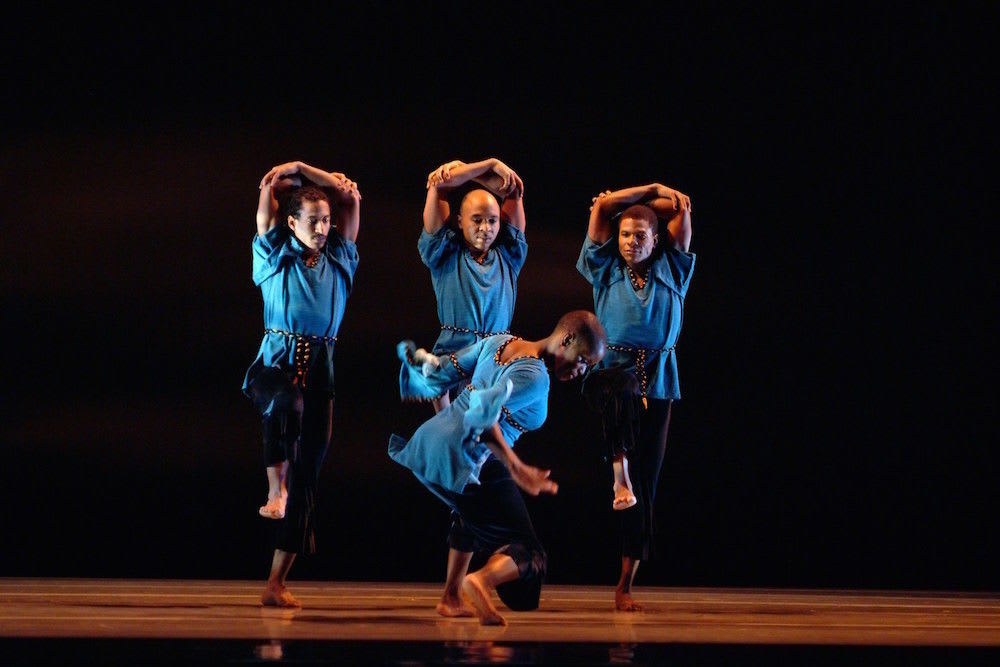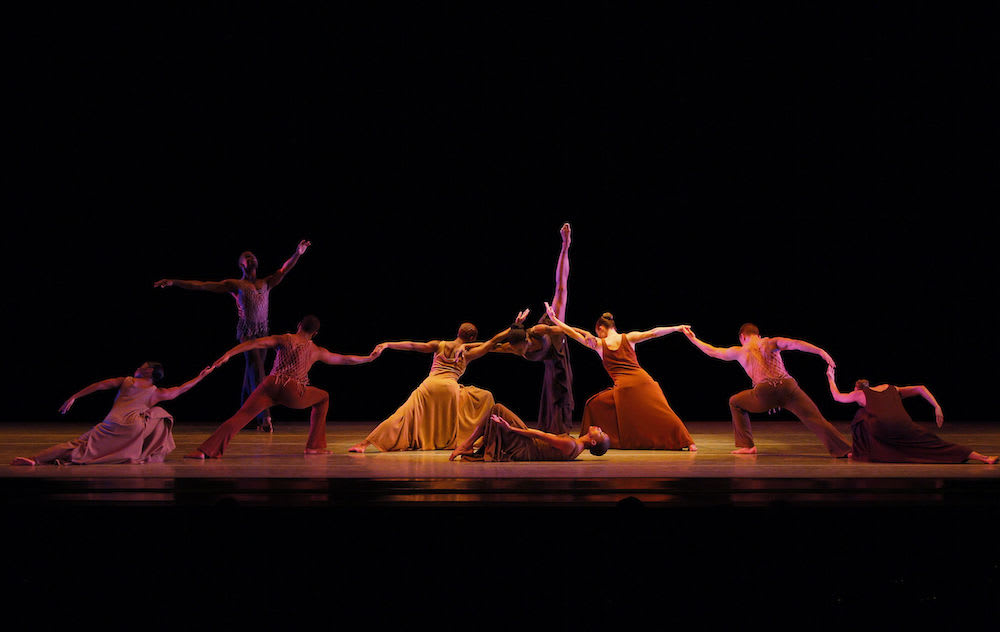 There's something of the spiritual, in every sense of the word, in tonight's second programme from the Alvin Ailey Dance Theater Company: Jessica Lang's three-movement EN using the metaphor of the circle to explore human connections, Ronald K Brown's The Call suggests a vocational call to dance, and Artistic Director Robert Battle's Juba seems a take on The Rite of Spring. Followed, as per usual, with the evangelical Revelations. The dancers deliver at every level.
Lang's opening twenty-minute EN ("whose multiple meanings in Japanese signify circle, destiny, fate and karma") sets the standard high. The circularity of life, its rites, the need for a guide, a dozen souls are led by a charismatic Matthew Rushing taking his role seriously. Euclidean geometry and the divine; integrity of purpose and design…
All in white (a religious sect, an alien planet?), dancers perform against a dominant dark disc, a sun, a moon, or an eclipse, which bleeds light, colour, and mysticism. Nicole Pearce's lighting is an integral part of the choreography, she and Lang co-authors of the set design.
Sculptural groupings, interdependent associations, crisp lines, moving columns, all inextricably linked in knotty permutations. The collective interacts, forms and reforms. A white globe swings like a pendulum above their heads.
A purity of form and Jakub Ciupinski's Philip Glassian minimalist score captivates as it infuses the scene with an intensity and dynamism that takes the breath away with its beauty of form and style. Akram Khan's meditative work springs to mind though it's nothing like, as do the Kodo drummers, percussion a demanding driving force.
The ticking of a clock, the rush of a rocket launch, time waits for no man. Vibrations thrum, cymbals crash, acrobatic bodies, intricate elements of a high precision timepiece, mechanisms in a larger universe, instigate movement, tilt and spin. An ominous hum… individual dancers break away… syncopated rhythm, fierce propulsion, fast tempo… and lights out on Lang's hundredth ballet.
Ronald K Brown's The Call is "his love letter to Ailey" blending "modern and West African dance idioms", set to the music of Johann Sebastian Bach, the Mary Lou Williams Trio and Asase Yaa Entertainment Group.
Also twenty minutes, it is a quintet of two men and three women, and reminds me of Richard Alston—must be those propeller arms and its baroque elegance. Women in shimmering silk dresses, men in pale suits and black vests, The Call opens with Bach's Trio Sonata No 6 in G Major. Suit jackets come off for lindy hop jumping jazz, wonderful jazz piano. Black vests off, and Afro-Cuban robust folk rhythms pump up the tempo.
AD Robert Battle in Juba, his first work for the company, "sets folk traditions in a modern world". A quartet, three men and one woman, in Central European / South American ethic costumes of cord-trimmed blue shirts and loose trousers (Mia McSwain), arms and hands linked in Greek / Israeli folk dance style perform a fifteen-minute rite to John Mackey's chugging score against a red flash aurora borealis backcloth (lighting Burke Wilmore). It's a mixture of Nijinsky's Rite of Spring, Christopher Bruce, and Piazzola's tango in a vigorous dance of exorcism and supportive collaboration.
A different cast presents Revelations tonight—the company numbers thirty-three according to the programme, so there's plenty to spare—and again it is transformative, soulful, witty (those fans flickering like gossiping tongues) and uplifting. Martha Graham is visible in the early numbers, Agnes de Mille in the later, and of course Ailey's teachers Katherine Dunham and Lester Horton.
Daniel Harder is magnificent in his "I Wanna Be Ready" solo, and the "Take Me to the Water" baptismal scenes striking, but it is the "Rocka My Soul" finale that does the trick every night, almost erasing from the mind's eye everything that has come before.
Reviewer: Vera Liber