Endgame
Samuel Beckett
Complicite
Duchess Theatre
(2009)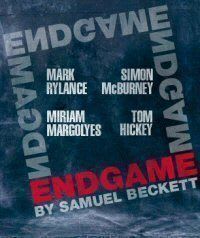 Like Waiting for Godot, Endgame is a sometimes impenetrable but often humorous meditation on our existence.
Complicite's production has had its share of woes, as half the cast (Richard Briers and Michael Byrne) disappeared during rehearsals. This delayed the opening while Mark Rylance was recruited in a break between the Royal Court and West End runs of Jerusalem and then got up to speed.
Rylance, who spent so long in a dual role at the Globe, has stepped up to play opposite one of the few other director/actors still working on the London stage, Simon McBurney, in a double act that gives no sign of rushed rehearsals.
Rylance has moved smoothly from Hamlet to Hamm, the blind man with crippled legs who rules his roost with a rod of iron. This (not so) old codger whose arms fly expansively like some jerky puppet, rails against the world but in doing so, treats his companion Clov like a slave.
Clov seems to accept his place, toddling around on legs at least one of which seems artificial, expressing dissatisfaction but carrying out pointless tasks anyway.
Whether their murky world is post-apocalyptic might be debated but nothing seems to go on in the perpetual darkness outside their windows, which is not to say that activity within their four walls is excessive.
Within the bleak, barely furnished house there are also the most famous dustbins in literature, occupied by a superb comic double act. Miriam Margolyes and Tom Hickey offer brilliant cameos as Hamm's parents, Nell and Nagg.
Beckett's message is contained in the lack of meaning. As we may question the point of the play, so he asks a similar existential question on a much wider canvas - why are we here and how should we justify our presence on earth and in society?
This production has had its fair share of problems but, thanks to the talents of a quartet of vastly experienced actors, comes through as a worthwhile complement to this year's dazzling Godot directed by Sean Mathias at the Theatre Royal, Haymarket.
Playing until 5 December
Visit our sponsor 1st 4 London Theatre to book tickets for Endgame
Reviewer: Philip Fisher