The End of the Moon
Laurie Anderson
BITE05
Barbican Theatre
(2005)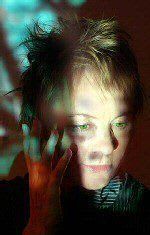 An evening with Laurie Anderson is always an extraordinary experience. She is one of those iconoclastic, avant garde geniuses who, like some of her collaborators over the years (for example Lou Reed, Wim Wenders and Robert Lepage), produces extraordinary work that often defies categorisation.
The End of the Moon is a 90 minute one woman/one laptop show that combines theatre, story telling and music. It starts from the premise that "Life itself is just bad art"
Miss Anderson sits and stands on the massive Barbican stage surrounded by close to 100 flickering candles and talks to the audience in a voluptuous, sing-song voice that has changed little since her chart hit O Superman, 25 years ago. Visually, this calm atmosphere is interrupted by little, just one video screen that shows a small section of the surface of the moon but at one point wittily focuses on the inverted artist.
The story that we are told, with lots of trips into little byways, is largely autobiographical. It commences with the appointment of Miss Anderson as the inaugural writer in residence at NASA. By the end, whether because of her dissenting views of her country or not, it has also been decided that she will be the last writer-in-residence there too.
Accompanied by an ambient backing track and interrupted occasionally by an over-amplified, skinny electric violin that looks rather like a skittle, the story of the artist's work with the Space Agency unfolds. It didn't start well, as almost immediately after her appointment, the space shuttle Columbia blew up, significantly holding up the programme.
Along the way, we hear some strident views about the American invasion of Iraq which are used to support a lack of empathy with and respect for her fellow countrymen.
Miss Anderson starts off by asking the question that naturally flows from the war with Iraq: "Why does everybody hate us?" and is not convinced by the conclusion that "They hate us because we are rich and democratic and free." Her more controversial view is that "People hate you because you're a jerk".
The worrying conclusion that she reaches is that "This war will never be over, it will just keep moving from place to place".
There is far more to The End of the Moon than mere political diatribe. This dreamlike evening is packed with witty anecdotes, the best of which involves the potential for following Dr Dolittle by talking to the animals - or, in this case, her dog Lolabelle.
Those who know Laurie Anderson's work will have some idea of what to expect. This show has been touring the world and will continue to do so. There is little doubt that, like the Barbican, every venue will sell out with audiences delighted by this unusual fusion of music, speech and a little, magical je ne sais quoi.
Reviewer: Philip Fisher