The End of Reality
Richard Maxwell
New York City Players
Barbican Pit
(2006)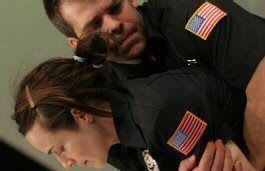 The New York City Players have a very unusual view of the world. The End of Reality subverts theatrical conventions, presumably in an attempt to look at our lives today from a fresh perspective.
The action takes place in the foyer of some office block. A cast of six with no parts attributed in the programme play security guards with only a single exception, a kidnapper. The speech is mechanised with disjointed sentences deliberately spoken unnaturally. Similarly, the performances are the antithesis of acting with emotions left in the dressing room.
Tom, who apparently leads the crew, has to put up with a lot of weeping and inefficiency. He has a bad start, as one of his team is kidnapped from under his nose.
When he sacks innocent new girl Shannon, apparently in a fit of misogyny, this seems a good opportunity to recruit his goddaughter, Marsha.
She has a revolutionary streak and soon Tom is trying to foist her on to would-be actor Brian. Following the capture of a suspect who looks like the kidnapper but may not be, Marsha releases him. This provokes further disquiet and the second, slow motion, balletic martial arts fight of the evening.
Little of the text makes much sense with some cynicism about liberals who talk but don't act perhaps a key.
Quite what the message and purpose are is not immediately apparent, which makes this play one that might delight Maxwell fans but may not offer enough drama to attract a more general audience.
Reviewer: Philip Fisher